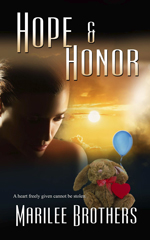 Hope and Honor

Book 3 in the Soul Seeker Series...
Life is becoming more complicated for soul reader Honor Melanie "Mel" Sullivan. Her boss needs help with his rebellious teen daughter who believes rules are made to be broken, and her current boyfriend, Homeland Security agent Mick Petrov, is becoming an absentee lover, dropping hints about a major decision he faces. To make it worse, Mel's ex, 3 Peaks detective "Billy the Kid" McCarty, wants her back. And those aren't the only challenges...

When a paramilitary group called New Dawn wants her soul-reading skills, Mel meets five-year-old twins who steal her heart. Unwilling to abandon the motherless children, she strikes a deal with the compound's charismatic leader. Drawn deeper and deeper into New Dawn's twisted agenda, Mel must figure out a way to save the twins and herself before it's too late.


---
An excerpt from Hope and Honor

A brief explanation: Early in the book, the Rathjens, Rick and Riley, ask Mel to accompany them to a paramilitary group called New Dawn. It is located in the mountains east of 3 Peaks. When they arrive, she finds she is not able to go into the meeting hall because she is a female - which is how women are referred to at New Dawn. Consequently, she waits for the Rathjens outside where she encounters Kimber.
A few minutes later, the last of the stragglers enter the hall. I notice one man in particular. His fair hair and sturdy build speak of Scandinavian heritage. He holds the hand of a little boy with blond hair and bright blue eyes. The man stops at the top of the stairs, gives me a fleeting glance and calls over his shoulder, "You wait here for us, girl. Don't go wandering off."

He and the boy enter the hall. I stand and look for the person he spoke to. It would be nice to indulge in some girl talk while I'm waiting. So far, I've seen none of my gender. Are they all hiding in their little log cabins? Down at the creek scrubbing their dirty clothes on washboards? Kneading homemade bread?
My peripheral vision catches sight of a sudden movement. I walk down the steps and turn right until I reach the edge of the building. I peek around the corner and see a little girl pressed against the rough siding. Her dark hair is braided. Her jeans and jacket are too big and look like boy clothes. Her gaze is fixed on the ground. Her thumb is in her mouth.
I take a step toward her and smile. "Hi. Are you waiting for your dad?"
She nods.
I take a step closer, trying not to spook her. "I'm Mel. What's your name?"
Without removing her thumb, she mumbles something unintelligible. I take a step close and squat down until we're eye level.
"I didn't quite get your name. Maybe if you take your thumb out of your mouth it will work better."
She lifts her head and I'm looking into eyes identical to those of the little blond boy. Bright and blue. My heart breaks when I look into her soul. It's a soft shade of pink with streaks of pale blue and it's bisected with a jagged black line. This little girl has experienced a severe trauma.
"I think I saw your dad and brother go into the hall. Am I right?"
She nods. The thumb comes out of her mouth. "Papa and Gunner."
"Can you tell me your name again, sweetie?"
"I'm Kimber."
"Do people call you Kim?"
She shakes her head. "Nope. People call me Kimber, 'cause that's my name."
"Got it," I say. "Hey, Kimber, how about you keep me company until the meeting is over. I've got nobody to talk to and I'm lonesome. We could go sit on the stairs and wait together."
"Not there. No females. We can sit on the bench, though."
She takes my hand and leads me to a rickety bench set a few yards in front of the porch railing. We sit in companionable silence for a few minutes. I'm dying to know more about this little girl, but don't want to bombard her with questions.
She pats the sleeve of my down jacket. "Your coat is pretty."
"Thanks." I look at her thin denim jacket. "Are you warm enough?"
"No."
I unzip my jacket, slide my left arm out, wrap it around her, pull her close and zip us up in it. Her little body is chilled. I want to bitch slap her father. 
"Now we're like two snug bugs in a rug," I say.
She giggles. "You're funny."
"How old are you, Kimber?"
"Five."
"And your brother?"
"Gunner's five too."
"No way," I say. "You're twins?"
"Uh huh. But we don't look alike 'cause he's a boy and I'm a girl."
"Your eyes look exactly alike."
"Oh, yeah, people say that all the time."
"Guess what?" I say.
"What?"
"I'm a twin too."
I reach into the neck of my sweater and pull out the silver twin heart pendant, a birthday gift from bio dad, Steve.
I hold it out so she can see it. "See the two hearts, how they're linked together? It means your heart will always be connected to Gunner's heart."
"Really?" She touches the pendant with her index finger. "Is your heart connected to your twin?"
The innocence of her question causes my eyes to fill with tears. "Yes, we're still connected."
"Does she live with you?"
"She lives in my heart."
She persists. "But where does she really live?"
How do I explain death to a five-year-old girl? How do I tell her about Hope, about our soul connection? I can't think of a way, so I chicken out.
"She lives far away." Not exactly the truth, but not exactly a lie either. Call me the queen of denial.
---
Reader reviews for Hope and Honor...
I LOVED this book! It is actually the third book in a series but it read easily as a stand-alone. After reading this entertaining and unique story I REALLY want to make time to read the other two previous books. Mel is a strong, courageous heroine who I immediately liked. The story flowed so well that I hated when I had to put it down for a bit and I was always eager to get back into it. There was plenty of tension and suspense. I really became invested wanting everything to turn out well for a couple of really cute kids caught up in an impossible situation.
Laurie Jenkins, Vine Voice


Once again Marilee Brothers has hit a home run with this third and final book in the Soul Seeker series.

Each of these novels address issues that reflect the society we live in, producing a knock-on effect and quality of the community we live in. This novel addresses the often controversial effect of cults, prejudice and the inherent problems it introduces. The other pertinent issue is the vulnerability of teenagers, and the problems that are faced both as individuals and as a family. Marilee Brothers carefully paints each character making them larger than life, as Mel once again dives in headfirst. These issues add a level of credibility to the novel ensuring the characters meld smoothly into each scenario. Mel continues to mature in this novel and makes some big decisions that define her future wrapping up the series very nicely.

The staple characters in the series remain, but the novels continues to introduce new characters that injects each novel with a surge of freshness. The pace is static throughout the book and this keeps the reader intrigued to see what happens on the next page.

As this series finishes off, I look forward to what Marilee Brothers comes up with next.
Running Rabbit, Amazon reviews