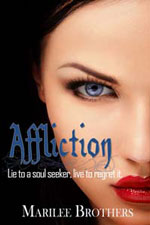 Affliction
Book 1 in the Soul Seeker Series...

Lie to a soul seeker, live to regret it. 
Twenty-two-year-old Honor Melanie (Mel) Sullivan has an affliction. Due to childhood trauma and inappropriate social behavior, she is diagnosed with Aspergers, a form of autism. But, Mel and her mother, Sandra, know Aspergers is not her true affliction. Mel prefers not to gaze into a person's eyes because she is a soul reader, and what she sees in a soul can be frightening. It can also get Mel into trouble. Her ability to read souls develops after the death of her twin sister, Hope, at age six. 

After a brush with the law, Mel leaves her family home in Southern California and travels to Bend, Oregon where she meets the Harley-Davidson-riding William McCarty (Billy the Kid) and stumbles upon a human trafficking/baby-selling scheme involving foreign girls from Kazakhstan.

---
An excerpt from Affliction
May 2014

The baby's soul is spotless. Unlike her mother's. That's why I have to save her. If I don't, her soul will soon be stained with fear and pain like her three older siblings. I have a plan. Yes, it's half-assed, but a half-assed plan is better than nothing... right?

I'm at the end of my shift as a nurse's aide. Visiting hours are over. I check the nursery window for proud daddies and grandparents. Nobody. Still in my scrubs, I slip into the nursery and call to the overworked nurse on duty, "This one is needed in the lab."

She nods. I tuck the tiny baby girl in my right arm and hold her close to my body, similar to a running back clutching a football. Head down, I step out into the hall and walk to the door leading to the stairs.

"Hey, you!" Male voice.

My heart leaps in my chest. I stop and turn. Stan, from the janitorial staff, pushes his mop down the hall in pursuit of a cute, young LPN who gives him a coy finger wave. I take a shaky breath and slip through the door.

---
Reader reviews for Affliction
I absolutely love Marilee Brothers and this novel has hit another home run. The character has so much verve, providing a great injection of wry humour together with a credible personality.

As anticipated, the love interest is sexy and protective, what more could a girl want? I love that he has real faults and can be just as annoying as only the people we care for can possibly be. The plot is solid and engrossing whilst addressing issues that resonate, leaving the reader with food for thought and providing an awareness that today's modern world demands.

The supporting characters, including Mel's family are full on with a lot of colour and I'm desperately waiting to see where the series goes next. I'm so excited that I can go straight on to the next novel and keep up some continuity.
Runningrabbit, Goodreads Reviews
This series was great for showing you just how easy it can be for someone to be labeled as something that is completely off from what they are really dealing or suffering with. Luckily, Mel is a strong leading lady and is able to overcome the issues [of] the mislabeling and move to another state. It was great to see her finally be able to make true connections and friends, as well as finding something she was passionate about doing  with her talents. I liked reading as she grew and really morphed into a strong and harder-fighting girl than before. 
The story is very well written and is engaging throughout. It doesn't take much to sit down, with the book, and find that you are still sitting there a good few hours later, entirely submerged in this world and story the author has created.

Overall, I really enjoyed this read and think a lot of paranormal romance readers will find it enjoyable as well. 

Bri Wignall, Goodreads Reviews
What a wonderfully written story. As the mother of a child with actual Aspergers, I was a little intrigued by that aspect. I was so happy to see it was never seen in a bad light, and this was so well written I came out of it wishing it could be real.

Mel is a wonderful and easily loved character. You can't help but hold your breath when things start really going on for her. There are so many twists and turns in this story I had to remind myself to breathe at many points. And the ending.... just another wow.
Jennifer Zamora, Goodreads Reviews
Mel (Honor) has an affliction, but it's not what people think! Mel can read people's souls, so growing up Mel doesn't want to look into people's eyes as she doesn't know how to explain some of the things she sees.

With great characters such as Billy The Kid (boyfriend), Uncle Paco, the Harley-riding Mexican Gang Banger, Mel's Mum and Abel, the bible [thumping] step-dad also appearing on the scene, [it] creates a fantastic story with a great mix of characters. Well worth a read and very enjoyable!

Sarah Davies, Goodreads Reviews

Share Your Comments About Affliction
Tell us about your introduction into the world of soul seekers in Marilee Brothers' Affliction...