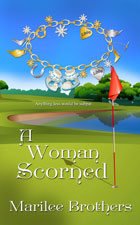 A Woman Scorned

Life changes dramatically for Libby McKenna when a body is found at Fairway to Heaven, the iconic golf course she runs. Murdered chairman of the board, Mickey Warren, had enemies. These included a "starter" ex-wife, the angry current wife, a deceived girlfriend, and a disgruntled business partner. Plus a bevy of "buddies" resented Mickey's creative scoring when playing a round.
When new sheriff Riley O'Connor asks for Libby's help, she agrees. But snooping around quickly becomes hazardous for her health. Can Libby find the truth before the killer scores another hole-in-one?
---
An excerpt from A Woman Scorned

A brief explanation: Elizabeth (Libby) Montgomery is the manager of the pro shop at the Fairway to Heaven eighteen-hole golf course. Sofia, her nineteen-year-old daughter, is home on summer break and works with the maintenance crew.

The front nine of Fairway to Heaven is dubbed Hell and has appropriately named holes such as Devil's Knob, Hellfire, Eve's Downfall (fairway lined with apple trees), and A Woman Scorned (no women's tee box). The back nine is called Heaven, also with appropriately named holes such as God's Little Acre, Gabriel's Horn, Angel Crossing and The Hereafter (last hole).

Chapter One
When Libby heard Gabriel's Horn, the sound barely registered. Standing behind the counter in the pro shop of the Fairway to Heaven Golf Course, her gaze was fixed on the computer screen and the list of upcoming foursomes.

Rita, manager of the adjoining bar and grill, called, "Sounds like some old fart got a birdie. Maybe he'll tip me more than fifty cents on his next brewski."

Libby frowned at the computer. "But play hasn't started yet, not for another fifteen minutes."

Rita said, "Mickey Warren's out there. He always sneaks out early to get tuned up before his tee time."

Libby clucked her tongue. "Totally against the rules, but if his foursome doesn't mind, who am I to..."

The words stuck in her throat as the blast continued. She whirled and stared out the window. "Oh, this isn't good. Two blasts are the rule for a birdy. One long blast means something bad has happened."

Rita wiped her hands on her apron and joined Libby at the window. "Oh my God, is that Sofia?"

A golf cart was tearing down the middle of the ninth fairway toward the clubhouse, its back tires spitting up chunks of wet grass. A second cart, driven by the head greens keeper, Sammy Espinosa, raced along the cart path leading from the eighteenth green. Before Libby could respond, her cell phone burst to life.

Sofia's voice was shrill with panic. "Mom! Mom! It's Mickey Warren. He's face down on the fairway of A Woman Scorned. I think he's dead. I called 911."

Libby and Rita ran to the door, reaching it at the same time. They bounced off each other, regained their balance and stumbled through. Sirens wailed in the distance.

Sofia's golf cart shuddered to a stop. She bailed out, ran to her mother and grabbed her hand. Her olive complexion had a yellow tinge. Her brown eyes were wide with shock. "He looks dead, Mom. I think he's dead."

Sammy approached. "He's dead all right." He used his finger to make a slashing motion across his throat. "Muerto."

Rita gasped. "You mean someone cut his throat? Oh, sweet Jesus, all that blood."

"No, no, no," Sammy muttered. "My gesture was but a symbol used to indicate death. No throat slashing."

"Thank God," Rita replied.

Libby pursed her lips in disapproval. "Why are you thanking God, Rita? The man is still dead."

Rita shrugged.

Sofia's brow furrowed. "Or is he? Dead, I mean. Doesn't somebody official have to determine that?"
Sammy held up a hand. "I checked, Chica. Turned him over to see if he needed resuscitation. Like I said before. The man is muerto."

Rita inhaled sharply. "You touched him? Isn't that against the rules?"

"For Pete's sake, Rita, he was trying to help," Libby said. She turned her gaze to Sammy. "Did you turn him back over, like you found him?"

Sammy flapped a hand at her. "Yes, yes, of course. I did not tamper with the death scene. I know better."

Sirens screaming, an aid car followed by a fire truck pulled into the parking lot, squeezing by clusters of newly arrived golfers ready to hit the links.

Libby barked, "Sofia, go tell the golfers to wait in their cars. I'll take care of the rest."

Sofia, still looking a bit wan, rolled her eyes. "Yeah, right, like they'll listen to me."

Libby took her daughter by the shoulders, turned her around and gave her a little push. "Give it a try. Be assertive."

Sofia was petite and looked younger than her age. She'd grown up on the golf course and the members still called her Libby's kid.

Libby strode to the parking lot. Sammy trotted beside her, talking non-stop. "Remember, absolutely no vehicles on my course. I do not wish to see the grass torn up and destroyed by tire marks."

"Sammy," she warned. "Be reasonable. You can't toss poor, muerto Mickey into a golf cart and drive him to the funeral home. Show some respect for the dead."

Sammy's eyes narrowed. His face settled into the stubborn look so familiar to Libby. "Ha! Then, they better drive slow or they will hear from me, Sammy Espinosa, golf course superintendent."

He picked up the pace and marched toward the emergency vehicles. "I will inform them of my decision."
---
Reader reviews for A Woman Scorned...
Just what I needed right now! I've been in a reading slump but I flew through this book. Witty and fun! Reminds me of a Janet Evanovich/Stephanie Plum book. Crazy lovable characters with several little stories within a story. Smart heroine. Fun little romance. Tight family. Good stuff! Loved it!
Jo H., Librarian
What a fun fast-paced cozy mystery! I really enjoyed the story and the characters. Marilee does a superb job weaving the mystery with quirky characters and whip-smart dialogue. Highly recommend!
N. N. Light's Book Heaven
A light-hearted romp on a golf course. Delightful protagonist with many interesting friends and family members. Fun names of things and many amusing moments throughout. It should keep you smiling during this troubling time. Worked even better than Calgon.
Barbara T.