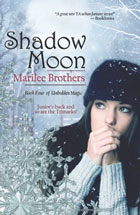 Reader
Reviews
for
Shadow Moon
I could not put this book down... A truly unique series of paranormal beings. A believable heroine, full of teenage doubts and, at times, questionable self esteem. Allie 'finds herself' in these books. We see her grow and mature throughout the series. She begins with "Can I do this?" and by book 4 she's thinking "Bring it on"! She meets all sorts of people from all walks of life. She has friendships with close buddies and experiences a few boy/girl relationships along the way.
~ D. M. Lawrence on Amazon.com
Well I now have read the first 4 books in the Moonstone series... The story lines keep your attention and I did not want to stop reading the book... This series has been fun to read. The books don't have scenes you want to skip over because of content. They have good characters and bad characters, and some were bad but have changed for the better. Friends that stick by and help each other through tough times.
~ R. Laney on Amazon.com
Shadow Moon is the 4th book in the Unbidden Magic series by Marilee Brothers. I can't express just how much I love reading these books! I happened upon them by chance, and I've been hooked ever since... Marilee Brothers uses a light, easy humor as she weaves a masterful story. I highly recommend these books to anyone who enjoys YA or paranormal fiction. I'm anxiously awaiting the next book with a heavy heart knowing it's the conclusion of the series.
~ Janette on Amazon.com
I loved it... It was yet another delight. I know this book is "supposed to be" for teenagers and the "young adult" market, but I think anyone into fantasy would enjoy this series, as I've said before. I recommend anyone buy it as well as the first 3 book in the series. I can't wait for book 5, but I'll be sad as it is supposed to be the final one in the series.
~ C. Johnson on Amazon.com
Share Your Comments About Shadow Moon
The fourth book in the Unbidden Magic series has Allie in more danger than ever before. Tell us why you liked the book.