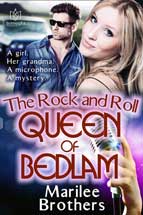 The Rock and Roll Queen of Bedlam
Winner of the 2010 Booksellers Best Award for romantic suspense!
Leggy, karaoke-signing Allegra Thome spends her days teaching dysfunctional teens and her nights with wealthy new boyfriend, Michael. The rough patch following Allegra's divorce is over, and life is grand. But when Allegra lands in the middle of a drug bust and meets Sloan, a rough-around-the-edges DEA agent and, later that day, a kid from her class disappears, things quickly head south. Sloan, who has the tact of a roadside bomb, is attracted to Allegra and alienates Michael. To make matters worse, nobody seems to care that Allegra's student, Sara Stepanek, is missing. Allegra's search for Sara becomes a race against time with dead bodies piling up and her own life in peril.
---
Reader Reviews for The Rock and Roll Queen of Bedlam
"Are you ready for a suspense story not about a perfect beauty or an analytical detective? How about people doing regular jobs with a few twists? Quirky townspeople, including a grandma who serves as a sexual surrogate, helpful former felons, lecherous coach and a missing student who may have ties with the Mafia. Best of all, an impulsive Special Ed teacher named Allegra, who acts before she thinks. An unexpected crime spree in the small town pairs Allegra with smart mouth detective Sloan in The Rock and Roll Queen of Bedlam...
"The chemistry between Sloan and Allegra is mesmerizing. Add to the story a criminal element, a missing girl, an angry boyfriend, and shady foster parents --—you've got a page-turner. Allegra finds herself in predicaments that are reminiscent of Lucy Ricardo if she were living in the 21st century. Secondary characters add to the zaniness of the story while moving the plot of the story forward. They do exactly what they are supposed to do while taking nothing away from Sloan and Allegra.
The Rock and Roll Queen of Bedlam is the best book I've read this year (and I have read a lot of books already). I am giving Marilee Brothers' book a perfect 10. In the seven years I've been reviewing books, I have only given four other books a 10. I highly recommend this book, no matter what type of genre you like. An incredible fun read, you'll laugh out loud. I guarantee it."
~Morgan Wyatt, Novelspot.net
"You need a lot of grit and stamina to teach junior-high students who have behavioral problems, and Allegra Thome has an abundance of both. Her tough, wise-cracking facade, a survival mechanism developed when she was married to an abusive ex-husband, serves Allegra well as she deals with an impressive array of delinquency. When one of her students disappears, Allegra decides to find her, with or without the help of Sloan, a sexy DEA officer. Brothers surrounds Allegra with interesting secondary characters, including a sex-surrogate grandmother who will join the ranks of Janet Evanovich's gun-toting grandmother and Sandra Hill's tough swamp granny as one of the more colorful seniors in genre fiction. At turns funny, suspenseful, and touching, this novel of romantic suspense will appeal to a broad spectrum of readers."
~Shelley Mosley, Booklist reviews
"Brothers puts her experience as a counselor to behavior-disordered teenagers to good use in this tightly plotted suspense novel set in Washington state. Nick Dorsey, a bright 16-year-old student with cystic fibrosis at Vista Valley High School, worries when his troubled classmate, Sara Stepanek, disappears. Nick and his aunt, Allegra Thome, Sara's teacher, who blithely refers to herself as "the queen of Bedlam," pool their sleuthing skills and soon uncover unsavory practices at the Church of the Holy Light, which Sara had begun attending. The church's charismatic head, Robinson Hunt, also runs the What Would Jesus Drink Winery. The quirky romance between Allegra and DEA agent Sloan, whom she meets by accidentally interrupting a sting, provides a light counterpoint to the darker hunt for Sara. Readers will want to see more of this dynamic teacher/teen crime-solving duo."
~Publisher's Weekly
"The Rock and Roll Queen of Bedlam is an amusing yet dark amateur sleuth thriller with a chick lit sarcastic spin as sassy, spunky, spitfire Allegra provides commentary from the start --with her observations on tall women wearing hose and detectives checking asses-- and never slows down from there. Fans will enjoy the lighthearted bantering of Allegra, especially with Sloan (don't ask about his first name though, Johnny Cash could have sang the song) contrasted with the serious topic that is not taken lightly in a terrific crime caper thriller."
~Harriet Klausner, genregoroundreviews.blogspot.com
"This story will have you laughing one minute and at the edge of your seat in suspense the next. The plot is involved but engrossing, and the other characters range from boringly average to totally bizarre. The zany plot is full of humor and pathos, and I did not want the story to end."
~Maura, CoffeeTimeRomance.com
"The Rock and Roll Queen of Bedlam was impossible for me to put down. I was enthralled with this story. Mystery, romance, humor and things happening in the most unexpected places kept me hooked. The characters are outstanding. Sometimes, the repartee' had me laughing so hard I cried. The ending is a thrilling page turner with a shocking climax. I hope Marilee has another Allegra novel in the works because I couldn't get enough. Highly recommend!!"
~ Wendy Hines, Wendy's Minding Spot
"The eccentric characters make the book... Highly recommended!"
~Vickie Denney, www.ReaderToReader.com
"I will not recap the storyline because the other reviewers already have. Like the others, I could not put this book down. Ms. Brothers' humor, clever story line, in depth characterizations and mystery made this an incredible read for me. She had me from the first sentence: "Panty hose are the tool of the devil." Then, she goes on to prove it! I just loved this book and truly hope it is the first in many more to come."
~ M. Grigsby, posted on Amazon.com

Share Your Comments About
The Rock and Roll Queen of Bedlam
Tell your friends and other visitors why they should read The Rock and Roll Queen of Bedlam. Who's your favorite character? What's your favorite part? Let other readers know why you like the book... but be careful not to give too much away!
What other visitors have said about The Rock and Roll Queen of Bedlam
Click below to see comments from other visitors to this page...

best book I've ever read!
Are there any other books after this?? I loved the details just painted a picture in my head. Loving every bit of my reading. Highly advise this book!