Moonstone
The first book in the Unbidden Magic series...
Meet Allie Emerson, the girl voted least likely to save the world from evil...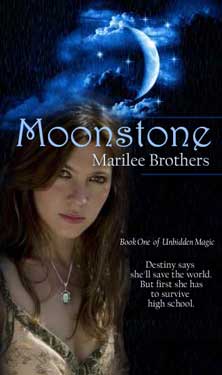 "Hey, look, I never asked Kizzy to give me the moonstone necklace, all right? And I thought she was just kidding when she said I was meant to fulfill some old prophecy because I had the mark of a Star Seeker in my hand. I had enough problems already. Mom. School. Junior Rodriquez. Like I really needed a whacked-out guardian angel named Trilby floating in my yard. Like I really wanted to be reading dudes' gnarly thoughts and moving stuff just by looking at it. And please, moi, Allie Emerson? Solving mysteries and fighting creepy Trimarks. No way. Well, okay. Way."
Read an excerpt
from Moonstone

Read reviews for Moonstone
Destiny says she'll save the world, but first she has to survive high school...
Moonstone, by Marilee Brothers, is a young adult paranormal published by Bell Bridge Books. (It's also a fun read for the young at heart!)
Ready to get your copy of Moonstone?
Get the ebook at Fictionwise.com
or click below to buy from Amazon.com