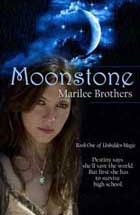 Moonstone
Book One in the Unbidden Magic series...
Meet Allie Emerson,
the girl voted least likely to save the world from evil...
"Hey, look, I never asked Kizzy to give me the moonstone necklace, all right? And I thought she was just kidding when she said I was meant to fulfill some old prophecy because I had the mark of a Star Seeker in my hand. I had enough problems already. Mom. School. Junior Rodriquez. Like I really needed a whacked-out guardian angel named Trilby floating in my yard. Like I really wanted to be reading dudes' gnarly thoughts and moving stuff just by looking at it. And please, moi, Allie Emerson? Solving mysteries and fighting creepy Trimarks. No way. Well, okay. Way."
Destiny says she'll save the world, but first she has to survive high school...
---

Reader Reviews for Moonstone

"This is the first novel, and first in the Unbidden Magic series, from author Marilee Brothers. I thought the descriptions about high school life were really believable (probably drawn from Marilee's experience as a high school teacher). And loved Allie's running commentary throughout the book.
"My favorite thing about this story, though, was how Marilee played with the idea of getting powers and using them in a "normal" life. Allie's life didn't become a fairy-tale when she developed powers. The book wasn't full of people who were rich and elegant. I really appreciated this story of how a teen could deal with her real-life problems with the added complexity of a mystical destiny. Plus -- this book was lots of fun!"
~TexasRed, TexasRed Books
"Moonstone is a very well-crafted, well-paced story. Allie is not the usual kick-ass heroine but a normal teenage girl struggling with unusual powers and thrust into exceptional circumstances. Readers of all ages should enjoy this fresh and bewitching tale."
~Doug Knipe, SciFiGuy
"Cross Twilight with a Stephanie Plum book, and you'll get Moonstone. It's supernatural and smart, funny and affecting. I didn't want to put the book down. I cannot wait to read the next part of Allie's story... She's strong, spunky, intelligent, and good-natured. I really found myself rooting for her."
~Reviewed by Mo, Un-Mainstream Mom Reads
"So what happens when you get an ordinary girl with normal teenage problems, then you add a paranormal concept to the story plus some romance? You get Moonstone. A wonderful book which I couldn't put down. There's something about Brothers' writing that just captures you and she knows how to write a great story. The pace of the book was just right, she didn't give everything away in the beginning nor did she wait until the end. Allie was like any other girl at the beginning of the book, she could have been my best friend; she was that real. When she gets her powers she's still believable and just a wonderful character. I liked everything about this book. Even the cover is cool. Moonstone is Marilee Brothers' YA debut and I wouldn't have believed otherwise had I not read it on her biography. The first in a series, Moonstone is a great paranormal book. The other great thing about Moonstone was that the conflict was resolved at the end so the readers won't be left with a cliffhanger. I can't wait for the sequel. I would love more about Allie and the Star Seekers."
~Reviewed by Carol, Bookluver-Carol's Reviews
"A Gem of a Book. Allie Emerson (short for the unfortunate name, Alfrieda Carlotta Emerson), is not a lucky person. When she falls off a ladder, grazes an electric fence, and lands in a cow pie, it certainly seems that her already bad luck is getting even worse.
"So what happens when this unlucky person finds out that she holds a key to magical powers and is destined to fulfill an age old prophecy? Chaos happens.
"Allie's character shapes this book into a greatly entertaining story. I've mentioned before that one of my criteria for giving out five stars is my ability or inability to put a book down. This is a non-put-downer. It's a fun story with a strong voice and a memorable setting.
"A well-written tale of intrigue and a great set up for the sequel, with characters I want to know better, and a plot that has miles to go. This Unbidden Magic series is one I look forward to reading more of in the (hopefully not too distant) future.
"This author and publisher bear watching. Off to turn another page..."
~Julie M. Prince, yabookscentral.com
"In Moonstone, Marilee Brothers has given life to a great new YA urban fantasy series. Allie Emerson has more than the usual teenage problems on her plate, but there is far more to Allie than meets the eye. Watching her deal with her newly discovered magical abilities, the powerful moonstone necklace that has the bad guys after her, and a hot new boyfriend, kept me riveted to the very last page. I can't wait for the sequel!"
~Alexis Morgan, bestselling author of
Dark Warrior Unleashed from Pocket Star
"Moonstone is an excellent read for any fan of YA fantasy. Brothers has a great sense of humor, even using some minor but funny potty humor when describing Allie's uncle's prized bull. Brothers also has a knack for keeping the action moving - which gets the reader hooked - and helping the reader feel what Allie is feeling - which keeps the reader enraptured. Also, while there are other books out there about teens finding out they have some sort of mystical powers, Brothers is not afraid to take the story in a unique direction.
"Moonstone is the first book in Marilee Brothers' Unbidden Magic series. I cannot wait to see what is next from this delightfully fun and refreshing debut author..."
~Ricki Marking-Camuto, www.bookloons.com

Share Your Comments About Moonstone
You loved Moonstone? Great! Tell your friends and other visitors why they should read the first book in the Unbidden Magic series.
What other visitors have said about Moonstone
Click below to see comments from other visitors to this page...