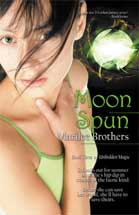 Reader
Reviews
for
Moon Spun
"The third book in Marilee Brothers' Unbidden Magic series is part paranormal suspense and part young adult romance. Allie is a plucky young girl with supernatural powers who learns more of her family's history and of her own abilities in MOON SPUN. She has grown up poor and somewhat neglected, without a father figure in her life and with an irresponsible mother. The glimpses of her life in a trailer in the little town of Peacock Flats were some of the most interesting sections of the book for me. She appears practical, brave and resilient in facing both mundane and earthly, as well as paranormal, troubles. Some of her resilience shows up in her reaction to romantic setbacks as well. Unlike other teen heroines who pine away for their lost boyfriends, Allie is pragmatic, essentially optimistic, and quick to bounce back."
~Usha Reynolds, Teenreads.com
"...Allie is on a new adventure, this time to a place called Boundless, where she finds out she is part faery. Allie has a very important role to play in Boundless and while she's there she goes about setting a lot of wrongs... right. In perfect Allie style she manages to get herself, and a few others, in a bit of trouble with her.
"This is a fun book that has action, romance, fantasy, adventure and mystery. As with all of Marilee's books, I had many laugh-out-loud moments along with a few tears shed. Allie is one of my favorite Heroines; she is spunky, funny and doesn't take herself too seriously. Marilee has a way of writing that just draws you in, you find yourself turning the pages furiously to see what happens next.
"Again, I love her comedic sense and I find that Marilee has a unique way of carrying off humor that so many authors miss. I've read everything she's written and will continue to do so!"
~Kristi Stern, The Book Faery
"Now, I'm a HUGE faerie fan. HUGE. I think it's safe to say that I love everything to do with fae, the Tuatha de Danann and the underworld in general, so THIS was my favourite of the four books.
"I absolutely loved pretty much the entire plot and gobbled up every word. The scenes in Boundless are breathtaking, and the fae characters are absolutely amazing. A few scenes were so beautifully written that I was honestly moved to tears."
~justagirlgeek, on Amazon.com
Share Your Comments About Moon Spun
Tell us about your trip to the land of faeries with Allie. What did you like in Moon Spun? You can even tell us what you didn't like, as long as you're nice!