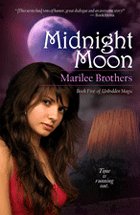 Midnight Moon

Book Five in the Unbidden magic series...
The Trimarks are planning an invasion.
And the only thing standing in their way is Allie and the moonstone.
All Allie wants is a normal life... friends, boys, school dances. Right. Like that's going to happen.
In two weeks, during the summer solstice, Allie's going to face the biggest challenge of her life, fighting against time to save the world from a Trimark invasion. You'd think the world of weird might leave her alone to plan how she's going to survive. But nothing in Allie's world is simple or easy, especially when she's attacked by Trimarks trying to steal the moonstone. Then Sammie disappears into the faery world of Boundless, and Allie must follow and bring her home, only to find the fairy queen, Luminata, isn't about to let Allie leave. So, what's a girl with magical powers supposed to do?
Fortunately, she has a team to help her, a team with special talents of their own.
---

Reader Reviews for Midnight Moon

In the last installment of the series, the action increases and there is a time-sensitive quest that Allie must finish to save the world and fulfill her prophecy. Several roadblocks are thrown in her path, yet she has grown enough and is starting to realize her own personal strength, and she adds a new level of determination to become all that she can be. A well-formulated ending closes the open holes in some of the stories, while a few unanswered questions remain...

As a series, this is a good read, destined to become a favorite of many YA readers. ...With Allie as the main character, her dalliances with the multitude of boys flocking her way do not distract her to the level of "must have a boy to survive" and her smart, sarcastic wit combined with moments of self-doubt that never quite undermine her forward progress make her a heroine that is easy to relate to for readers of all ages.

~ Gaele on Amazon.com
The fantastic, fun-filled Allie Emerson adventure continues! All the same great humor & wit I've come to love in Marilee Brothers's writing with new and exciting turns of events. A perfect ending to this series - I am really going to miss the cast of characters from Peacock Flats.
~ Janette on Amazon.com

This book was simply amazing, but I'm sad to know that it's the last in the series... If you loved the past books in the series, you MUST read this one. It's absolutely essential. It ties everything up so nicely and the only thing I know is that I would love more one day if it were possible. It was a very fitting end to a lovely series. If you love this genre, give this entire seris a shot. I don't think you'll regret it. It's a wild ride along the way. Marilee Brothers has simply, for lack of a better phrase "done it again," and very well. She crafts a perfectly grounded, solid, and believeable world that helps the reader latch on to the setting and characters. I won't exactly be "hurting" for other things to read now, but I will very much miss checking in on Allie and her family, especially with the way this series ended. Have at it and happy reading!

~ Clayton B. Johnson on Amazon.com

Share Your Comments About Midnight Moon
You've made it to the end of the series with Allie and friends. Tell us about your adventure.