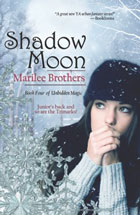 Shadow Moon
Book Four in the Unbidden Magic series...
Peacock Flats is no longer safe.
Allie Emerson is hoping for a few quiet months to catch her breath after a summer that included the discovery she is not only a twin and of faery blood, but also destined to play a pivotal role in the faery world. School has barely begun when Allie must kiss her hope of a normal year goodbye.
She can't escape her unfinished business with the fae, the Trimarks, or Junior Martinez, who is making it clear he plans to win her back. Signs, portents and whispers are pushing Allie to "find the girl" before it's too late.
Hoping her twin can help her solve the riddle of their destiny, Allie uncovers old secrets and begins a cross-country journey that puts her in more danger than ever before. If she succeeds, she may just find the answers that can save everyone she loves.
---
An excerpt from Shadow Moon

He's Baack!

It was Thursday afternoon. Mercedes, Manny and I had just tumbled out of the school bus and were walking down Uncle Sid's driveway. Mercedes stopped in her tracks and let out an ear-splitting scream; so shrill, so piercing, that Patti, the school bus driver, scrambled out of the bus and ran down the driveway, waving a giant crowbar. "What? What?"

By then I'd spotted Junior's car parked next to the trailer. I told Patti, "It's nothing. Mercedes gets a little excited when Junior's in town."

Mercedes, in fact, was sprinting toward her house, no doubt to collect every ambulatory member of her extended family so Junior could autograph their body parts. Manny just grinned and shook his head.

Patti inhaled sharply. "Junior's here?" She fluffed her blond ponytail, gazing back and forth between Junior's car and the school bus, like she was trying to choose which way to run. Finally, she sighed and waved her crowbar in farewell. Before she headed for the bus, she said, "Tell Junior I said, 'hey.'" I promised I would.

As I approached, Junior stepped out of the car and leaned against it, arms folded across his chest. My plan was to scurry down the driveway and pull him inside the trailer, before the clamoring hordes descended. But then I hear Mama Trujillo shriek, which, by the way, was an exact replica of her daughter's, only louder, higher and longer. Mama was one of Junior's biggest fans. I couldn't help but smile as she tore out of Uncle Sid's house, apron flapping, chattering a mile a minute in Spanish.

Junior moved away from the car, opened his arms wide and wrapped her up in a big hug. Since my plan was already screwed, I slowed to a stroll. Turned out to be a good decision. Otherwise, I'd have been trampled by the rest of the Trujillo family, including Grandma Maria Anna Lucita.

I stood at the edge of the crowd, while Junior flashed his famous smile and wrote his name on arms, necks, hands, ankles and Mama's apron. After dropping a kiss atop Grandma's snowy, white head, he caught my eye and mouthed the word, "Help."

Mercedes was over the moon. She clapped her hands and jumped up and down. "Okay, okay, we get it. You want to be alone." She added something in Spanish that caused Junior to grin and the rest of the crowd to burst into raucous laughter.

I narrowed my eyes at Mercedes and asked Junior, "What did she say?"

Junior gave me a wink and saluted the crowd. "See ya later, amigos."

Once I got him inside, I shut the door and slipped out of my backpack and coat.

Junior placed his hands on my shoulders and said, simply, "Emerson."

"Hi," I said softly. "I'm glad you're home."

---

Reader Reviews for Shadow Moon
I could not put this book down... A truly unique series of paranormal beings. A believable heroine, full of teenage doubts and, at times, questionable self esteem. Allie 'finds herself' in these books. We see her grow and mature throughout the series. She begins with "Can I do this?" and by book 4 she's thinking "Bring it on"! She meets all sorts of people from all walks of life. She has friendships with close buddies and experiences a few boy/girl relationships along the way.
~ D. M. Lawrence on Amazon.com
Well I now have read the first 4 books in the Moonstone series... The story lines keep your attention and I did not want to stop reading the book... This series has been fun to read. The books don't have scenes you want to skip over because of content. They have good characters and bad characters, and some were bad but have changed for the better. Friends that stick by and help each other through tough times.
~ R. Laney on Amazon.com
Shadow Moon is the 4th book in the Unbidden Magic series by Marilee Brothers. I can't express just how much I love reading these books! I happened upon them by chance, and I've been hooked ever since... Marilee Brothers uses a light, easy humor as she weaves a masterful story. I highly recommend these books to anyone who enjoys YA or paranormal fiction. I'm anxiously awaiting the next book with a heavy heart knowing it's the conclusion of the series.
~ Janette on Amazon.com
I loved it... It was yet another delight. I know this book is "supposed to be" for teenagers and the "young adult" market, but I think anyone into fantasy would enjoy this series, as I've said before. I recommend anyone buy it as well as the first 3 book in the series. I can't wait for book 5, but I'll be sad as it is supposed to be the final one in the series.
~ C. Johnson on Amazon.com

Share Your Comments About Shadow Moon
The fourth book in the Unbidden Magic series has Allie in more danger than ever before. Tell us why you liked the book.
What other visitors have said about Shadow Moon
Click below to see contributions from other visitors to this page...