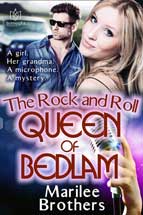 The Rock and Roll Queen of Bedlam
Winner of the 2010 Booksellers Best Award for romantic suspense!
Leggy, karaoke-signing Allegra Thome spends her days teaching dysfunctional teens and her nights with wealthy new boyfriend, Michael. The rough patch following Allegra's divorce is over, and life is grand. But when Allegra lands in the middle of a drug bust and meets Sloan, a rough-around-the-edges DEA agent and, later that day, a kid from her class disappears, things quickly head south. Sloan, who has the tact of a roadside bomb, is attracted to Allegra and alienates Michael. To make matters worse, nobody seems to care that Allegra's student, Sara Stepanek, is missing. Allegra's search for Sara becomes a race against time with dead bodies piling up and her own life in peril.
---
An excerpt from The Rock and Roll Queen of Bedlam

Pantyhose are a tool of the devil.

On a tall woman, the crotch hangs at knee level so she's forced to crouch and shuffle like Quasimodo. If a woman's vertically challenged, they slither downward, pooling around her ankles like a reptilian second skin. My troubles began with pantyhose.

For a Friday, it had been relatively tranquil. No fights, no blood spilled, no weapons displayed. All in all, a good day for a teacher of behavior-disordered teenagers with a few felons thrown in for good measure. The queen of Bedlam, that's me.

After school, I scoot across the parking lot as fast as my walking cast will allow. In forty minutes, I'll be cast-free and ready for my third date with Michael LeClaire. Seriously hot, comfortably rich Michael LeClaire. Rumor has it his parents have ordered him to go forth and multiply. Enter Allegra Thome: stage right.

I'd thrown together a killer outfit. Short, clingy black dress with a neckline that dips down-tastefully-to allow a glimpse of cleavage. Wispy lace panties and strappy heels. Successfully field tested and ready for action, it's stashed in a shopping bag behind the seat of my red Ford Ranger.

Zipping across town to the clinic, I think about my leg and how it will look cast-free: pasty, shriveled and, in all likelihood, sprouting coarse dark hairs. Had I thrown in a pair of panty hose? Of course not! I slap myself in the forehead.

Braking hard, I swing into Sid's Gas'n'Grub. Because Sid is the father of one of my students, Crystal (shoplifting), I like to give him my business. Sid sits on a stool engrossed in a tabloid, his big belly pressed up against the counter. He marks his place with a pudgy finger and looks up. "Hey teach! How's my kid doin'?"

"Not bad, Sid. Just a little language once in a while."

The corner of his mouth draws down. "Hey, Suze! Didja hear that? Goddam kid swears at school!"

Sid's wife Suzy stands up from behind the Plexiglas case where shriveled hot dogs rotate over a heat lamp. She talks around the cigarette dangling from her lips. "What are ya gonna do?" She shakes her head. Ashes fly.

I assure them, compared to her classmates, Crystal is a veritable poster child of good conduct. I pick out my pantyhose and rummage through my purse for $6.73 while Sid peruses the package. He beams his approval. "Good choice, Miz Thome. Ya gotcher midnight smoke, lace high-cut panty, nude toe and heel. New boyfriend, huh?"

"Sort of," I mumble, regretting it immediately. Oh, what grist for Crystal's mill. I'd pay. I wave goodbye as Sid assures me, "Let me tell ya, I'll have one serious f***in' talk with Crystal about her language."

I step into the parking lot where a midnight blue Honda Accord with flipper wheels sits next to a beat-up Chevy; both of them nosed in to the line of poplars marking the back of Sid's property. I know this car. It belongs to another of my students, Jose Delgado. Jose is relatively crime-free, assigned to my class due to spotty attendance, two weeks on, one week off, like clockwork. With his multiple gold chains, smooth olive skin and dreamy eyes, Jose is the hands-down favorite of my behavior-disordered girls.

I lift my hand to wave. But it isn't Joe behind the wheel. It's his guardian, the man he calls Tio Estefan, talking earnestly to a man in the passenger seat. I stuff my new panty hose behind the seat and look at my watch. I still have time to speak to Estefan about Jose's attendance. Dragging my cast, I skitchity-hop across the parking lot calling out in my pathetic Spanish, "Hola Estefan."

He looks less than thrilled to see me and makes shooing motions with his hand which I ignore. As I lean over to remind him of his responsibilities, a series of events explode like a string of firecrackers.

Doors slam. I gape in open-mouthed astonishment as the man in the passenger seat points a gun at Estefan. I'm grabbed from behind and pinned against the car. A rough male voice growls in my ear, "You're coming with me, lady!"

Heart leaping in my chest, I scream, "Sid! Suzie! Help me!"

With a howl of rage, I slam my cast into the man's shin. He mutters an oath, spins me around, rams a shoulder in my midsection and hoists me into the air as I shriek and struggle. My captor, grunting with effort, tells one of his henchmen, "Get the goddamn door open. She weighs a ton!"

What???

"It's the cast!" I yell as he stuffs me into the back seat of the Chevy.

Frantically, I try to scramble out of the car and, in the process, bash my nose into his elbow. Blood gushes from both nostrils. The man recoils and I finally get a look at the guy who not only assaulted my person, but implied I'm overweight. Big, mean-looking guy. Cheeks dark with stubble. Blood-shot pale eyes. Strings of greasy hair hanging below a baseball cap turned backwards.

"Wha ... wha?" I stammer as he digs a filthy-looking bandana from his jeans pocket and tosses it at me. I press it against my nose, gagging from the rancid odor of motor grease and sweat. He backs out of the car, slams the door and tells the guy behind the wheel, "You know where to take her."

At his words, I feel the air leave my lungs. I scrabble for the door handle. There is none. I fight for breath while my brain books a one-way ticket on Air Terror. Who are these people? What do they plan to do to me? Shoot me up with heroin? Sell me into white slavery? Will I end up in some third world country dragging my cast behind me as I walk the streets, forced by a sadistic pimp to turn a trick in exchange for a crust of bread?

"Nooo!" I howl as the driver executes a perfect three point turn and pulls out of the parking lot. Sid and Suzie stand in the doorway of the Gas and Grub, eyes wide with surprise and mouths agape. I pound on the window and scream, "Call the cops!"

The driver pulls out into the street. "Take it easy, lady. We are the cops. What in the hell are you doing in the middle of a drug bust?"

I sink back in the seat, pinch the bridge of my nose to stop the bleeding and moan, "I just wanted to invite him to parents' night."

---
Reader Reviews for The Rock and Roll Queen of Bedlam
"Are you ready for a suspense story not about a perfect beauty or an analytical detective? How about people doing regular jobs with a few twists? Quirky townspeople, including a grandma who serves as a sexual surrogate, helpful former felons, lecherous coach and a missing student who may have ties with the Mafia. Best of all, an impulsive Special Ed teacher named Allegra, who acts before she thinks. An unexpected crime spree in the small town pairs Allegra with smart mouth detective Sloan in The Rock and Roll Queen of Bedlam...
"The chemistry between Sloan and Allegra is mesmerizing. Add to the story a criminal element, a missing girl, an angry boyfriend, and shady foster parents --—you've got a page-turner. Allegra finds herself in predicaments that are reminiscent of Lucy Ricardo if she were living in the 21st century. Secondary characters add to the zaniness of the story while moving the plot of the story forward. They do exactly what they are supposed to do while taking nothing away from Sloan and Allegra.
The Rock and Roll Queen of Bedlam is the best book I've read this year (and I have read a lot of books already). I am giving Marilee Brothers' book a perfect 10. In the seven years I've been reviewing books, I have only given four other books a 10. I highly recommend this book, no matter what type of genre you like. An incredible fun read, you'll laugh out loud. I guarantee it."
~Morgan Wyatt, Novelspot.net
"You need a lot of grit and stamina to teach junior-high students who have behavioral problems, and Allegra Thome has an abundance of both. Her tough, wise-cracking facade, a survival mechanism developed when she was married to an abusive ex-husband, serves Allegra well as she deals with an impressive array of delinquency. When one of her students disappears, Allegra decides to find her, with or without the help of Sloan, a sexy DEA officer. Brothers surrounds Allegra with interesting secondary characters, including a sex-surrogate grandmother who will join the ranks of Janet Evanovich's gun-toting grandmother and Sandra Hill's tough swamp granny as one of the more colorful seniors in genre fiction. At turns funny, suspenseful, and touching, this novel of romantic suspense will appeal to a broad spectrum of readers."
~Shelley Mosley, Booklist reviews
"Brothers puts her experience as a counselor to behavior-disordered teenagers to good use in this tightly plotted suspense novel set in Washington state. Nick Dorsey, a bright 16-year-old student with cystic fibrosis at Vista Valley High School, worries when his troubled classmate, Sara Stepanek, disappears. Nick and his aunt, Allegra Thome, Sara's teacher, who blithely refers to herself as "the queen of Bedlam," pool their sleuthing skills and soon uncover unsavory practices at the Church of the Holy Light, which Sara had begun attending. The church's charismatic head, Robinson Hunt, also runs the What Would Jesus Drink Winery. The quirky romance between Allegra and DEA agent Sloan, whom she meets by accidentally interrupting a sting, provides a light counterpoint to the darker hunt for Sara. Readers will want to see more of this dynamic teacher/teen crime-solving duo."
~Publisher's Weekly
"The Rock and Roll Queen of Bedlam is an amusing yet dark amateur sleuth thriller with a chick lit sarcastic spin as sassy, spunky, spitfire Allegra provides commentary from the start --with her observations on tall women wearing hose and detectives checking asses-- and never slows down from there. Fans will enjoy the lighthearted bantering of Allegra, especially with Sloan (don't ask about his first name though, Johnny Cash could have sang the song) contrasted with the serious topic that is not taken lightly in a terrific crime caper thriller."
~Harriet Klausner, genregoroundreviews.blogspot.com
"This story will have you laughing one minute and at the edge of your seat in suspense the next. The plot is involved but engrossing, and the other characters range from boringly average to totally bizarre. The zany plot is full of humor and pathos, and I did not want the story to end."
~Maura, CoffeeTimeRomance.com
"The Rock and Roll Queen of Bedlam was impossible for me to put down. I was enthralled with this story. Mystery, romance, humor and things happening in the most unexpected places kept me hooked. The characters are outstanding. Sometimes, the repartee' had me laughing so hard I cried. The ending is a thrilling page turner with a shocking climax. I hope Marilee has another Allegra novel in the works because I couldn't get enough. Highly recommend!!"
~ Wendy Hines, Wendy's Minding Spot
"The eccentric characters make the book... Highly recommended!"
~Vickie Denney, www.ReaderToReader.com
"I will not recap the storyline because the other reviewers already have. Like the others, I could not put this book down. Ms. Brothers' humor, clever story line, in depth characterizations and mystery made this an incredible read for me. She had me from the first sentence: "Panty hose are the tool of the devil." Then, she goes on to prove it! I just loved this book and truly hope it is the first in many more to come."
~ M. Grigsby, posted on Amazon.com

Share Your Comments About
The Rock and Roll Queen of Bedlam
Tell your friends and other visitors why they should read The Rock and Roll Queen of Bedlam. Who's your favorite character? What's your favorite part? Let other readers know why you like the book... but be careful not to give too much away!
What other visitors have said about The Rock and Roll Queen of Bedlam
Click below to see comments from other visitors to this page...

best book I've ever read!
Are there any other books after this?? I loved the details just painted a picture in my head. Loving every bit of my reading. Highly advise this book!