December 2, 2017

Hello;


Let's catch up!
Wow, looks like I have a lot of catching up to do. Time has truly whizzed by since my last newsletter, over a year ago. I wish I could blame it on 24/7 writing, but I've managed to have some fun as well. However, I do have books to tell you about. Affliction, book one in the Soul Seeker Series, was published in 2016. Allegiance, book two, made its appearance in early 2017. The third and final book in the series, Hope and Honor, will be available for purchase on January 15, 2018.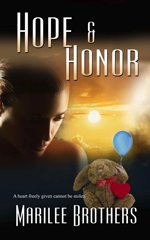 In past newsletters, I've mentioned the importance (and difficulty) of garnering Amazon reviews for my books. Many of you have been extremely supportive of my writing in the past, so I'd like to offer you an opportunity to help spread the word. Before a book is published, the author receives advanced reading copies (known as ARCs). The purpose of ARCs is to solicit reviews that will be posted on the day of publication. These ARCS are in digital form, so you would need an e-reader to participate.
If you are interested in receiving an ARC of Hope and Honor (at no cost to you) please contact me through my website www.marileebrothers.com. Click here to go to my contact form. I will need your email address and the type of digital file you need, PDF or E-PUB. I do have something to ask in return: your promise to post a review on the day of publication (January 15, 2018) and I would greatly appreciate it if you do not share the file. (I need to sell books.) The review (good or bad) is entirely up to you and doesn't have to be lengthy. I know this is a busy time of the year, but I hope some of you can find time to help me out. Many thanks!
Auggie's Corner
Well, it looks like just being adorable isn't enough for some people. Mom decided I needed a JOB. As you can see by my photo, (still camera shy) I am now a therapy dog. I worked hard to earn the vest. First, I had to pass a test... sit and stay for two minutes was the hardest. Then, I had to let people fondle my ears... my favorite part. I'm proud to say I'm a big hit at the nursing home. When I come through the door, people say, "Yay, Auggie's here!" (Being adorable helps.) Until next time, bow and wow!
Auggie Doggie signing off