December 04, 2015

Hello;


Christmas Greetings!
As the last days of 2015 whiz by, it's time to say, "Merry Christmas and Happy New Year." When I write my books, I try to bring them full circle with the following elements: An intriguing beginning, a middle featuring questions yet to be answered, and a satisfying end which may also suggest a new beginning. I visualize the coming new year much the same way. Here's hoping your new year brings you joy and many good books. Keep on reading!
On the book front, it's been a long dry spell. My last book, Baby Gone Bye, was published in November, 2013. Thanks, loyal readers, for hanging in with me. I'm still waiting for a firm publication date for my new book, Affliction. The publisher tells me it's "in the pipeline," which means it's being proofed and prepped for release. I'm guessing it will be out around March, 2016. I'm almost half done writing the sequel, tentatively titled Allegiance. When I have a solid publication date for Affliction, I will post it on my Facebook author page: www.facebook.com/marilee.author. I hope you will all join me there.
Here's a peek at the cover of Affliction.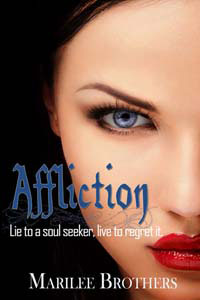 Auggie's Corner
It's me, Auggie. In my Lands' End parka. Do I look happy? (Hint: note the look of disgust on my adorable face.) I'm trying to figure out what the heck happened. This very spot is where I formerly basked in the sun, taking my afternoon nap.
In case you haven't figured it out, I'm not a cold weather dog. My extremely complex genealogy does not include Husky. This time of the year, I'm usually in Southern California visiting my dog cousins. Not this year, though, hence the new threads. I know I look handsome in red, but I'd much rather snuggle into my comfort foam bed. It's hard to be an effective muse when I'm freezing my whiskers off (it's a dog thing).
So, until spring...
Auggie Doggie signing off