July 21, 2015

Hello;


Latest News on the Book Front
After a long stretch without a new book, I'm pleased to announce I've signed a contract for Affliction. The book, intended for adult readers, is a mash-up of several genres. It's basically romantic suspense but also has a touch of fantasy since my protagonist, Honor Melanie Sullivan (Mel), has the ability to read souls. In addition, it is targeted for a genre called New Adult. New Adult features characters in their early twenties who are away from home for the first time.
After a brush with the law, Mel leaves her home in Southern California and travels to Bend, Oregon where she meets Harley-Davidson riding William McCarty (Billy the Kid) and stumbles upon a human trafficking/baby selling scheme involving foreign girls from Kazakhstan.
As with most of my books, there's never a dull moment. I'll soon begin the editing process for Affliction and will continue to share information about the book on my Facebook author page: www.facebook.com/marilee.author.

Great Summer Reads
Need a good book? I asked my friends what they're currently reading and, wow, did I get a great response. So, if you're looking for something new, read on!
Writing coach and editor extraordinaire, Pat Van Wie, just finished True Colors by Judith Arnold and The Girl on the Train by Paula Hawkins.
Rach Lawrence recommends two books by author Suzanne Bierman Laqueur, The Man I Love and Give Me Your Answer True.
My writer friend, Donna Scofield, is reading Sherwood Nation by Benjamin Parzybok, a post apocalyptic novel set in Portland, Oregon.
Belle Book author, Skye Taylor, just finished Call Sign Karma by Jamie Rae.
My Montana friend, Jean Brubaker, is enjoying All the Light We Cannot See by Anthony Doerr, The Virgin of Small Plains, a mystery by Nancy Pickard and Hello Love by Karen McQuestion (a happy dog story).
A Sudden Light by Garth Stein is on Vivian Carl's reading list. You might remember his first book, The Art of Racing in the Rain.
British author, Sue Roebuck, now living in Portugal, says she couldn't put down Look Behind You by Sybil Hodge. Sue's latest book, Rising Tide, is currently in the clutches of chef Jean Denham.
My bookaholic sister, Beth Cazel, is also reading All the Light We Cannot See, as well as Radiant Angel by Nelson DeMille and Handle With Care by Jodi Piccoult.
From my longtime friend and high school classmate, Sharon Van Rooy McCagg - Ordinary Grace by Kent Krueger and A Man Called Ove by Bachman.
As for me . . . I'm on a David Baldacci kick. I'm currently reading Memory Man, but also recommend the John Puller series, Zero Day, The Forgotten and The Escape.
Auggie's Corner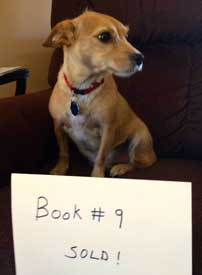 Do I look a little miffed? That's because I am. Marilee decided I needed my picture taken with her sold sign and woke me up from my morning nap, which I desperately need after breakfast and my morning walk.
As previously stated, routine is important. And, if I'm expected to be a muse, I need my rest. Bottom line, it's my job to keep her pecking away on her latest WIP - work in progress. (Aren't you impressed that I know that term?) When I see her staring at the computer screen for more than five minutes, I spring into action. First, I make sure my nose is extra cold and wet. Next, I creep up behind her and SLIME! This works well if she's wearing shorts.
What can I say? The job of a muse is never done.
Until next time...

Auggie Doggie signing off