January 19, 2015

Hello;


Happy New Year!
Hello! I hope everyone had a wonderful holiday season. I always feel a sense of optimism as I say goodbye to the past and step into a brand new year. Here's hoping you feel the same, and that 2015 will bring you joy, happiness and a feeling of accomplishment as you pursue your goals. (Nope, not gonna say the resolution word.)
I'm sending out this short newsletter to announce the re-issue of one of my first books. Some of you may have read The Rock and Roll Queen of Bedlam, a romantic suspense featuring Allegra Thome, teacher of behavior-disordered teens by day, karaoke singer by night.
When one of her students goes missing, Allegra and her nephew, Nick Dorsey, begin searching for her and stumble onto a massive cover-up. Early in the book, Allegra is in the wrong place at the wrong time and is falsely arrested by a sexy DEA agent, Sloan, during a drug bust. Their relationship heats up despite the fact that Sloan isn't exactly the type of boyfriend Allegra has in mind.
On January 24, 2015, The Rock and Roll Queen of Bedlam will be released in digital and print format by Boroughs Publishing with the brand new cover featured below. The book will be available at www.boroughspublishinggroup.com as well as Amazon.com and other online book retailers.
If you haven't read it, give it a try. Rumor has it, this may be the first book in a series. Besides, how can you resist a book that starts, "Pantyhose are a tool of the devil."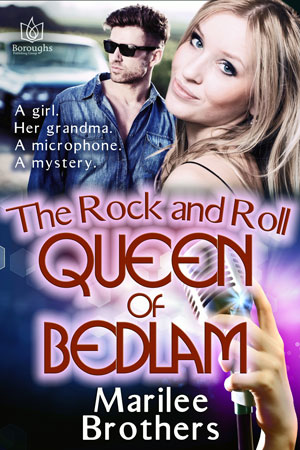 If you have an e-reader and would be willing to post a review to Amazon.com, I'd be happy to send you an ARC (advanced reading copy) of The Rock and Roll Queen of Bedlam. If you're interested, please contact me via the contact form on my website, www.marileebrothers.com.
Auggie's Corner
It's winter. What can I say? Teddy bears are great for cuddling. More news in the spring.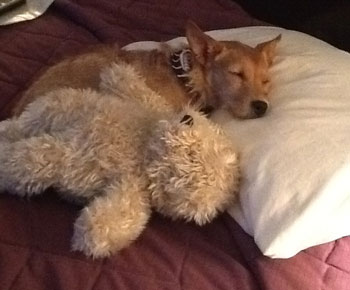 Until next time...

Auggie Doggie signing off