October 22, 2014

Hello;


Winners!
Periodically, I like to express my appreciation to those of you who read my books, follow my author page on Facebook or subscribe to my infrequent newsletter.
I recently mailed signed books or $10 iTunes gift cards to the following people whose names I drew in my September contest:
De'Anna Jenkins
Kathy Hennessy
Janette Derucki
Philip Schmeck
Alice Liu
Rachel Rivera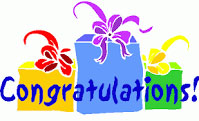 These folks are scattered across the country, ranging from Louisiana to California to New York City to Alabama. I am very grateful for your support. Thanks!
Book Update
I hoped to be done with my current project, tentatively titled Affliction, by now, but somehow life gets in the way. I'm happy to say I'm closing in on the end of the first draft. After some revisions, I will try to find a home for it. If that doesn't work out, I'll be joining the ranks of indie authors and give self-publishing a whirl.
This book is targeted for a fairly recent genre called New Adult and focuses on a young person's transition away from home into the adult world. Set in Bend, Oregon, my protagonist, Melanie Sullivan, experiences her first serious relationship, but is also plunged into mystery involving human trafficking and baby selling. The end is in sight!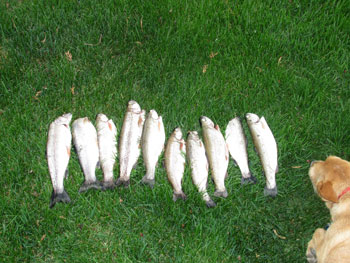 Auggie's Corner
Yes, that's me pointing at a bunch of dead fish. Yes, I went fishing. It was awful! I had to leave dry land and go in this tippy thing that rocked back and forth. I wanted to get out but I don't like getting wet. And, yes, I do know how to swim, but it's certainly not my favorite pastime. I much prefer snoozing in the recliner. I overheard Mom say, "That's the last time we take Auggie fishing."
Thank you very much!
Until next time...

Auggie Doggie signing off