July 27, 2014

Hello;


Shifting Gears
I could hardly believe it when I looked at the calendar and realized I haven't written a newsletter for seven months. A lot has happened in that time period. The hard drive on my Mac imploded. We made our annual trek from Southern California back to Washington state. We had a wonderful and informative trip to the East Coast where we visited historical sites including Gettysburg, Williamsburg, the Amish country, Washington D.C. and more.
On the writing front, I'm in the process of transitioning from young adult fiction to writing for adults once again. Hence, the shifting gears reference. I've started a new adult book, a romantic suspense, set in Bend, Oregon. The working title is Affliction. The protagonist is 22-year-old Honor Melanie Sullivan who has been diagnosed with Aspergers, a form of autism. However, her true affliction is her ability to look into a person's eyes and read his/her soul. Often, what she sees scares her. Of course the book has magic! I can't seem to write a book without it.
A giveaway for newsletter subscribers
Because I feel guilty about letting so much time elapse since my last newsletter, I've decided to do a giveaway strictly for those of you subscribed to my newsletter. I will give away two signed copies of my latest book, Baby Gone Bye. If you are outside the United States and I draw your name for a book, I'd be glad to send you an Amazon gift certificate since it costs a small fortune to send a print book out of the U.S.
Here's how you enter: Contact me through my website: www.marileebrothers.com (there's a button that says "Contact Marilee") and leave a message... something like, enter me in the drawing. Be sure to include your email address so I can contact you. If you are so inclined, I would also appreciate "Likes" on my Facebook author page: https://www.facebook.com/marilee.author.
Auggie's Corner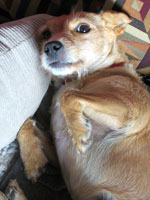 I'm happy to say I've whipped Dad and Mom into shape. Somebody had to do it. Wake-up call is at 6 a.m. This consists of face licking accompanied by back rolling and kicking my legs in the air (they think it's cute). If they want to sleep a little longer, that's okay. I crawl under the covers and do the butt snuggle. Usually Dad gets up shortly after and we do "the walk." I make sure I drink a lot of water. Pee mail messages are my first priority.
Once back home, it's time for multi-tasking. My morning nap is in Mom's office. While she stares at the computer screen and mumbles, I try to look cute and inspirational in between snoozes. After all, it is my job as a muse.
Dinner time is great. I usually get a taste of the leftovers. My favorite? Baked beans! After dinner, it's me 'n Dad in the recliner. Then it's 10:30 bedtime and I'm tucked in under my favorite blanket made by Mom's Canadian friend, Bev Epp. A good night's sleep and I'm ready to roll at 6 a.m. Routine is important.
Until next time...




Auggie Doggie