August 1, 2013

Hello;



Imagine working for a company for five years without meeting any of your bosses or co-workers face to face. This is exactly the situation for many writers, myself included. I've written six books for the Bell Bridge imprint of Belle Books, headquartered in Memphis, Tennessee. We have approximately 2,500 miles between us. All communication happens via email messages and phone calls. Therefore, when the opportunity arose to attend a writing conference in Atlanta, Georgia, curiosity trumped logistics. Especially when I discovered Belle Books was one of the sponsors of the conference and had a luncheon planned for their authors.

The trip was both overwhelming and surreal. First, zipping across the country and three time zones... and then, the sheer number of people. The hotel was packed with over 2,000 writers, both published and unpublished. Fortunately, serendipity played a role. In that crush of people, I found myself standing next to my editor, Pat Van Wie. She glanced at my name tag, smiled and said, "Marilee?"

At the luncheon I met a number of Belle Book authors, publishers Debra Dixon and Deborah Smith, production manager Brittany Shirley, and marketing director Danielle Childers. Brittany and Danielle were responsible for organizing our luncheon, complete with a fabulous gift bag (see pictures below). Bet you wish you had a wine sippy cup!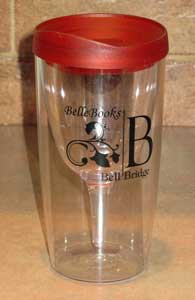 Would I do it again? Probably not. Blame it on my somewhat introverted nature and need for "alone" time. Am I glad I went? Absolutely!

New book update
I'm closing in on the end of The Blue Rose, due to be published in October. I had to laugh when I found out Belle Books folk refer to The Blue Rose as "The Magic Baby Daddy Book."
I think you'll enjoy reading about teen basketball star Gabe Delgado and the trials he faces as he tackles his senior year in high school encumbered by the infant who appears on his doorstep. It's a huge change from Allie Emerson's story in the Unbidden Magic series but I've enjoyed writing from a new and very different viewpoint.
Stay tuned for a giveaway when the book comes out.
Auggie's Corner
"I like big toys and I cannot lie."
Well, apparently I'm here to stay because we're now going to school. Yes, that's right. The class is called obedience training. Must not be working, though, 'cause my people still don't do everything I want them to. Oh, wait! Marilee just told me it's the other way around. I'm supposed to learn to sit, stay, heel, come. You know the drill. Actually, it's stuff I already know how to do when I feel like it. One big plus about the class — awesome snacks! When I graduate, I'll be going to a class called Agility. Hmm, sounds like hard work.
As far as the muse thing goes, it's a pretty easy job. My job is to make sure Marilee is at her desk and writing while I curl up on the big, cushy chair, ears up, looking cute and interested. Piece of cake!
Until next time...

Auggie Doggie signing off