February 6, 2013

Hello;



And the winners are... Dave and Jeanne Barrett of June Lake, California, whose names were picked in a random drawing for an autographed book. Dave and Jeanne are long-time subscribers to The Obsessive Page Turner and will receive a copy of Midnight Moon.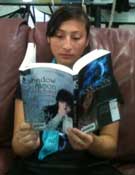 In a separate drawing, Laurel Sugden of Bigfork, Montana, is the winner of a $10 iTunes download. Paola Huerta (pictured right) won the photo contest and also received a copy of Midnight Moon.
I truly appreciate each and every one of you and your continued support for my books.
Blue Rose Update
My writing style is chugging and plugging, a few pages at a time. I'm currently approximately one-third finished with the book. I like to think of my books as three-act plays, which means Act One is done.
Why is the book called The Blue Rose? Every member of the Delgado family has a distinctive birthmark on his/her bum; one resembling a blue rose. Gabe's father, Ernesto, claims the mark is a sign of Spanish royalty, proof that the Delgados are destined for greatness. Gabe and his brothers think otherwise and roll their eyes at their father's prediction. But, they're forced to change their minds when Gabe's "special delivery" shows up one night in October.
Cool Prizes
If you haven't stopped by my blog lately, now is the time.
Because I recently completed the last book in the Unbidden Magic series, I'm hosting a special contest with two prize packages, one for U.S. readers and one for international readers. The prize package for U.S. contestants is pictured here. It consists of a signed book of your choice, a silver crescent moon pendant, a plaque that says, "Don't Piss off the Fairies," and signed bookplates with my logo.
The contest will run until the first of April. Go to http://bookblatherblog.blogspot.com to enter.
Goodbye until next time... and keep on turning those pages!
Marilee