December 21, 2012

Hello;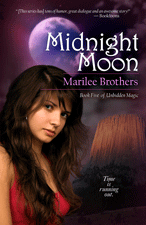 Drum roll please! Midnight Moon is finally out! The print version is now listed on Amazon.com; the e-book will be available soon.
Also, Moonstone, the first book in the Unbidden Magic series, will be on sale for $1.99 at the Barnes and Noble Nook Store from December 22 - 24.
Since 2008, I've produced a book a year... sometimes two. As the nights grew colder and the leaves began to fall, I was beginning to wonder if 2012 would be the exception. But, I'm delighted to say, book 5 in the Unbidden Magic series is now available. I hope you like the cover as much as I do. Check out the landmark in the background and see if you can identify it. It plays an important part in the story.
Since Midnight Moon is the last book in the series, I'll be saying goodbye to Allie, Faye, Junior, Kizzy and many others. My fictional family is very real to me and I feel a sense of loss as their story draws to a close. When that happens, I know it's time for another book.
Allow me to introduce a brand new fictional family. Seventeen-year-old Gabe Delgado lives with his Boeing engineer father and two brothers in a Seattle suburb. One evening in October, a "special package" is delivered to his doorstep and his life is changed forever. The Blue Rose, an urban fantasy, will be slightly edgier than the Unbidden Magic series, appropriate for older teens and adults. I'm currently working out all the plot twists and permutations. Rest assured the book will have plenty of magic and hopefully, some laughs as well. Look for The Blue Rose in late 2013.
To celebrate Allie's final adventure, I am giving away a number of autographed copies, drawing names from subscribers to my newsletter, blog followers (http://bookblatherblog.blogspot.com) and Facebook fans (www.facebook.com/marilee.author). The winners may choose any of the five books in the series.
As the end of the year approaches, I'd like to wish you and yours a blessed holiday season. I truly appreciate your support. Writing is a lonely business. When readers email me or contact me through my website, it absolutely makes my day. Thank you and keep on reading!