Let me start with an apology... It's been way too long between newsletters, but I do have a semi-decent excuse. I've been waiting for definitive information about the release date for Shadow Moon, book four in the Unbidden Magic series. Things are now moving along and I have a cover!
The projected date for the Kindle version is the middle of November. The print version will likely be available by the end of the month. You may notice the publishers went for a new and different look on the cover of Shadow Moon. I hope you like it as much as I do.
If you haven't checked out my blog, Book Blather, consider this your personal invitation. Its purpose is not to promote my own books -- instead, I wanted to create a blog for people who love books as much as I do.

Since its inception in April, Book Blather has featured interviews with new authors, a four-part series on self-publishing, wonderful recipes from our regular contributor and cookbook author, Chef Jean Denham, a travel piece about Madeira from my writer friend in Portugal, and some opinion blog posts from yours truly. Any of you reading this newsletter are most welcome to contribute your reading list, or a review, or anything related to books. I'd love to have you follow us as well. http://bookblatherblog.blogspot.com
I'm delighted to announce I've just signed with an agent -- Nancy Knight of the Sullivan Maxx Literary Agency. Nancy has been in the publishing biz for the last 30 years as an author and publisher and decided to put her experience to work as an agent. She's encouraging me to write a sequel to The Rock and Roll Queen of Bedlam. (Note to Nancy: I'm working on it.) I look forward to a great working relationship with Nancy.
Here's what I've been reading recently:

Sarah's Key by Tatiana de Rosnay
Unbroken by Laura Hillenbrand
Blood Vines by Erica Spindler
Hold Tight by Harlan Coben
Say Goodbye by Lisa Gardner
Wildwing by Emily Whitman
Our Canadian speed reader, Janet Smith, has been busy. Here's her list and comments:
Sara's Key by Tatiana de Rosnay... My favorite book since reading The Help. This is a wonderful story!
Renegade and Dangerous by Diane Palmer... Great light reading.
Lake News by Barbara Delinsky... Enjoyed this book very much.
Water for Elephants and Ape House by Sara Gruen... Both are very good. I also listened to a radio interview of the author and it was interesting to hear her discuss her novels and explain her love of animals.
Big Girl by Danielle Steele... I did not like the subject matter of this book (an overweight daughter constantly put down by an overbearing mother) so would not recommend it.
Bricklayer by Noah Boyd... I enjoyed this book, as it is similar to the Reacher novels by Lee Child.
And of course, my Lee Child novels: One Shot, The Hard Way, Bad Luck and Trouble, and Gone Tomorrow. I only have two more Reacher books to read.
I am currently reading Final Scream by Lisa Jackson, a new author for me. I am really enjoying this story.
News from the Muse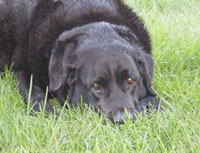 I'm a little crabby these days. Yeah, I know, Labrador Retrievers are famous for being nice. But, I ask you, how nice are you when you're on a diet? That's right. Marilee's hubby (and my former best friend) decided my waistline had disappeared. News flash: I DON'T NEED A WAISTLINE! MY FUR FITS JUST FINE!
So anyway, he has this plastic glass with a black line about three inches from the top. He measures my food and I don't get one single morsel above that black line. Now doesn't that sound a little anal to you? In the meantime, I have to scarf up the crumbs underneath the table. So undignified for a dog of my noble lineage. Things are looking up, however. I heard the two of them talking the other day. Marilee said, "I think Mauli's waistline is coming back." He said, "Yep, the diet's working."
Hold it! My keen doggy senses just picked up the sound of a reduced-fat Cheez-It hitting the floor. Gotta run...