Welcome to the shiny New Year. Remember, it's about the journey, not the destination. Live each day to its fullest. Laugh, cry, read, take a walk with a friend, scratch a dog's tummy and, above all, don't forget to dance, even if it's just around the living room with the dog, cat or a broom. It will make you feel good. I promise!
The Latest News...
Just wrapped up book #4 in the Unbidden Magic series. Junior Martinez is back in a big way, along with a brand new character who will be a major player in book 5, the last in the series. It's shaping up to be a doozy. Allie will have her own little team of paranormal crime fighters, including Beck and Nicole Bradford from Moon Rise.
For all you folks who received an e-reader for Christmas, a new and improved version of my first book, a medieval romance titled Castle Ladyslipper, has just been released as an e-book by Awe-Struck Publishing. It's a fun, fast read and it's available at Amazon as well as the Awe-Struck website: www.awe-struck.net
Here's what I've been reading recently:

Finished up The Girl Who Kicked the Hornet's Nest. Gotta love Lizbeth Salandar. Spoiler Alert: What's not to love about a girl who can claw her way out of a dirt-filled grave even though she's been shot in the head, and then proceed to wreak havoc on the bad guys?
Worth Dying For by Lee Child (Yes, Jack Reacher is back!)
Mocking Jay by Suzanne Collins
Dead and Gone and The World We Live In by Susan Beth Pfeffer, both follow-ups to Life as We Knew It, a post apocalyptic young adult series about life on earth after an asteroid hits the moon.
Here's what some of you have been reading:
Janet Smith, a veteran Obsessive Page Turner sent me her reading list, including Dangerous Fortune and Fall of Giants by Ken Follett, and The Jury Master and Damage Control by Robert Dugoni.
Sharon McCagg read The Book Thief by Marcus Zusak.
Jean Denham read By Bread Alone by Judith Ryan Hendricks. (You can learn more about Jean by reading below.)
Dawn LaVella Miller read Arcane Circle by Linda Robertson and Hellforged by Nancy Holzner.
Beth Cazel is reading What the Night Knows by Dean Koontz and says it's so scary she can't read it after dark and has to peek under the bed before she goes to sleep. Her nighttime book is Playing the Game by Barbara Taylor Bradford.
Meet Jean Denham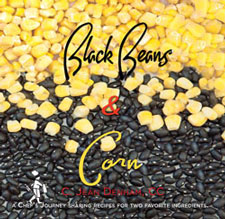 Jean, my childhood friend and a chef extraordinaire, is now writing cook books. Her latest, Black Beans and Corn, features a cover so yummy looking, you may want to give it a slurp!
Jean is a graduate of the American Culinary Federation and subsequently became the chef at Forestville Lodge Hotel in Forestville, California. She also started her own catering business. Now a resident of Port Angeles, Washington, she caters for wineries and private parties and writes cook books in her spare time. Check out her website at www.achefsjourney.com
News from the Muse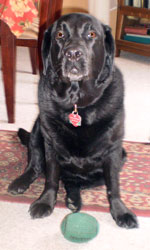 Since Marilee finished her book, my muse duties are on hold. Yeah, I'm on furlough (a little dog humor). Har!
Apparently other people have four-legged muses, too. Their pictures are below. Actually, I prefer to call them my fans, even though one photo features animals of the feline persuasion. (Shudder)
In a previous newsletter, I mentioned my soul mate, Zeke. Shortly after our nuptials, he returned to Montana and I haven't seen him since. Probably a good thing since I caught him sniffing another woman shortly after the ceremony. In Zeke's absence, I had to acquire a new interest, namely, the acquisition of food. FYI, I've honed my skills to perfection, the most important of which is The Stare, (directions below). If you're fortunate enough to have a small person toddling about the house clutching a cookie, you can skip this part. Take the cookie and run.
The Stare
Choose your target carefully, i.e. the weakest link. There's almost always one in the crowd.
Position yourself directly in front of target, pinning he/she against the furniture if necessary.
Gaze directly at the food in question, following its orbit as it travels to and from the target's mouth.
DO NOT BLINK! Sorry about the shouting, but it's by far the most important element of The Stare.
No nodding off. Be ready to snap the food out of the air before it hits the floor.
Drooling is optional.
Practice, practice, practice.
OMG, do I smell peanut butter? Pancakes? Peanut butter on pancakes? Until next time, Mauli the Muse, signing off.
The Muse Photo Gallery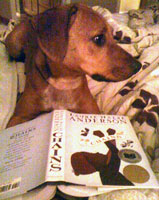 Here's Duke, chief muse for writer, Krista Ashe. Apparently Duke can also read. Check out Krista's blog, Musings of a Steel Magnolia at http://kristaashe.blogspot.com.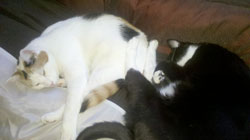 Jennifer Cazel sent pictures of her mews, Foxy and LeeLee, sleeping on the job.