Oh, please, it can't be November already. Yes, I'm in denial. However, that won't stop Thanksgiving and Christmas from barreling down on us like 18-wheelers whose brakes have failed.
This is my last newsletter for 2010, so without further ado, here's wishing you and yours a joyous holiday season. I am so grateful to all of you for your support. I love hearing from readers. Writing is a lonely business and your encouraging comments bring joy to my day.
The latest news...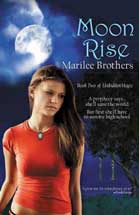 I'm thrilled to announce Moon Rise, the second book in the Unbidden Magic series, is a finalist in the Epic e-book contest for books published between June 1, 2009 and May 31, 2010. The winner will be announced March 12 at EpiCon 2011 in Williamsburg, Virginia. FYI, my fabulous editor, Debra Dixon of Belle Books, is one of the keynote speakers. There are seven finalists in the young adult fiction category. Please send your positive energy my way!
Castle Ladyslipper has been thoroughly edited and spruced up. Next step? A brand new cover. Hopefully I'll have a release date soon.
I'm still hard at work on Allie's next adventure, book 4 in the Unbidden Magic series, due to be published in 2011.
I recently attended a writing conference in Surrey, B.C. and had a class with British author Anne Perry who writes Victorian mysteries and has over 20 million books in print. She spoke for 90 minutes without a single note. Also present at the conference were New York Times best-selling authors Diana Gabaldon and Robert Dugoni. At Saturday night's book signing, I sat next to Arthur Slade, Canada's best-selling author of YA steam punk fiction. Since steam punk is loaded with clockwork and flying machines, I asked him, "Do you have to be mechanically adept to write steam punk?" His answer? "No way. I can barely change a light bulb." Yes! There may be a steam punk novel in my future.
Life in Sunny California

Like our feathered friends, my little family has fled the Pacific Northwest and migrated south in search of warmer weather. Ask and you shall receive. We arrived to 100 degree temperatures on November 3rd. It's a bit surreal to walk through department stores in shorts and sandals, dodging displays of wool sweaters, down parkas and, of course, fake Christmas trees.
I'm currently on the look-out for book signing opportunities and speaking engagements in the Southern California area. If you're in the area, check my website for upcoming events.
Here's what I've been reading recently:

Still slogging my way through The Girl Who Kicked the Hornet's Nest by Stieg Larson. OMG, I'm drowning in a sea of Olssons, Jonassons, Olsons, Karlssons, Nilssons and Erikssons (you get the picture). But, I'm no quitter. I will prevail!
Thanks to the late Herr Larson, my reading list had been curtailed. However, I did manage to read 61 Hours, the latest Jack Reacher book by Lee Child. Sadly, it was a disappointment. It seems quintessential tough guy, Jack Reacher, has fallen victim to political correctness. Either that, or Lee Child phoned it in.
Here's what you've been reading:
Sharon McCagg read The Uncommon Reader by Alan Bennett.
Renee Munoz devoured the first six books in The Warden Series by Rachel Caine and can hardly wait for more. (If you like paranormal romance, Renee has written a doozy titled Moonlight Bleu, under the name Renee Rearden)
Sue Monte read Tapestry of Love by Rosy Thornton. (FYI: Sue, writing as Sue Roebuck, has a recently-published debut novel entitled Perfect Score and it's getting great reviews.
Portia Bower-Allen read Authors Gone Wild by Bill Peschel.
Beverly Epp read World Without End by Ken Follett.
Let me know what you're reading so I can include it in my next newsletter. Hopefully, by 2011, I'll be done with TGWKTHN. Even the title makes me nuts!
News from the Muse

Yes, it's me, Mauli the Muse, in Southern California, busily shedding the winter coat I took great pains to grow up north. I am a British lab, you know, totally unsuited for temperatures over 70 degrees. I spend most of the day sleeping on the air conditioning vent, which not only keeps me cool, but blows great blobs of black fur all over the house. Am I sorry? No way! You can take a dog out of Britain but you can't take the British out of the dog.
My social life is just crazy busy, what with three walks a day and greeting old friends. I pick my route carefully in order to avoid tiny yapping creatures masquerading as dogs. They sidle up to me, pretending to be friendly and then, more often than not, chomp down on my nose. Definitely not cool. The highlight of my day is the after-dinner walk down Fringe Street and the permanent floating Canadian cocktail party. Now, these are my kind of people, pockets fully loaded with treats, ready and willing to do belly rubs.
As soon as I adjust to my new schedule, I'll be back on the job -- sleeping on Marilee's feet to make sure she doesn't leave the computer until she finishes her word count.
Ciao for now, or as we say in SoCal . . . buhbye.