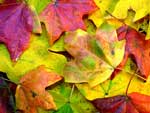 Happy autumn, everyone. My favorite time of the year!
The purpose of this short newsletter is to follow up on a promise. In the last issue, I announced a special contest available only to newsletter subscribers; the prize being a signed copy of one of my books. After a random draw, I'm pleased to say Trudy Timkovich is the winner. Congratulations, Trudy! Please contact me through my website and let me know which book you would like.
I will be repeating this contest periodically and would so appreciate it if you readers would spread the word to your friends who have not yet subscribed to my newsletter.
Upcoming Events
On October 9, I'll be signing Moon Spun as well as my other books at Borders Bookstore in the Yakima area -- along with my friend, Renee Rearden. Renee's book, Moonlight Bleu, is an exciting paranormal adventure and the first in a series.
On October 21-23, I'll be in British Columbia at the Surrey Writing Conference and taking part in a group book signing Saturday night.
Castle Ladyslipper, Part Deux
My first book, Castle Ladyslipper, is getting a face lift and will be re-issued by Mundania Press in the near future. I am now involved in the editing process and will keep readers posted via my website. Castle Ladyslipper is a medieval romance with paranormal elements. It takes place in the twelfth century during the reign of King Henry II and his queen, Eleanor of Aquitaine, a powerful woman in her own right. A quick, fun read, the book follows the misadventures of chauvinistic knight Garrick of Hawkwood who lands in a castle full of strong women led by Emma d'Arcy.

Here's what I've been reading recently:
Yes, the obsessive page turner is still at it. So many books, so little time.
Hollywood Moon, by Joseph Waumbaugh
Evil at Heart, by Chelsea Cain
With No One as Witness, by Elizabeth George
Alice in Jeopardy, by Ed McBain
Silent Scream, by Lynda La Plante
Grave Sight, by Charlaine Harris
Dream Fever, by Karen Marie Moning
Finger Lickin' Fifteen, by Janet Evanovitch
Dead Sleep, by Greg Iles
The Girl With the Dragon Tattoo, by Steig Larsson
The Girl Who Played with Fire, by Steig Larsson
The Art of Running in the Rain, by Garth Stein
Here's what some of YOU have been reading:
Beth Cazel (FYI, my sister who is also an obsessive page turner)
The Girl Who Kicked the Hornet's Nest, by Steig Larsson
Every Last One, by Anna Quindlen
On Mystic Lake, by Kristin Hannah
True Colors, by Kristin Hannah
Between Sister, by Kristin Hannah
Jean Brubaker
The Help, by Kathryn Stockett
Sara's Key, by Tatiana de Rosnay
Hotel on the Corner of Bitter and Sweet, by Jamie Ford
The Glass Castle, by Jeanette Walls
Remember, I want to know what you are reading since I'm always looking for new books. Click here to use my website's contact form.
News from the Muse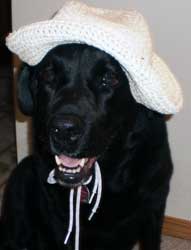 Everyone assumes my life is carefree because I'm a dog and my only job is to make sure Marilee writes her books. Wrong! Let's talk about fur. I guess you could call me the Obsessive Shedder. Did you know Labrador Retrievers have two coats? We have a thick layer of down for insulation as well as an outer layer of coarse, thick fur that repels water. Bottom line: we're always in the process of getting rid of the old stuff to make room for the new. So what do my human parents do? When fall arrives, I'm busy getting rid of my summer coat and growing a nice bunch of new fur for winter. But, in their infinite wisdom, my family takes me to Southern California with its summer-like temperatures, totally screwing up my shedding schedule. I guess it could be worse.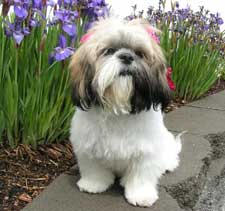 Here's a picture of my little friend, Kali, who runs the household of Paul and Pat Sugden. Kali has to be groomed. Yes, that's right: Groomed. Grooming involves bathing (totally unnatural) clipping (eek!) combing (say what?) and, quite often, hair ribbons and hats (now, that's just sad). So, I have to admit, my life's not so bad after all.
Until next time, it's Mauli the Muse signing off. It's gotta be nap time somewhere.