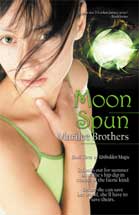 At long last, Moon Spun is out! It's available online from the publishers' website, www.bellbridgebooks.com and Amazon as well as your local bookstore. However, since shelf space is hard to come by, your bookstore will probably have to order it for you.
If you haven't seen the video trailer for Moon Spun, click the link to view it on my website.
I'm already hard at work on Allie's next adventure in book 4. Book 5 will be the last in the Unbidden Magic series. Here's a wee hint: It has a bang-up finish in a country far, far away!
iLove an iDeal
For those of you with an iPhone or iPad, the iBookstore will be offering Moonstone for 99¢ from August 10 - August 23.
Vive la France!

Forgot to mention this in the last newsletter... Ooh la la! My publisher sold the foreign rights for Moonstone to France. Oui, this means Moonstone will be translated into French and distributed there. Keep your fingers crossed. If it sells well, maybe they'll want the whole series!
Signed postcards available
I have color postcards featuring the cover of Moon Spun. If you would like one with my autograph, please send me your mailing address through the contact form on my website.
Special Contest for Newsletter Subscribers
As a subscriber to this newsletter, your name will automatically be entered in a new contest to win a signed copy of Moon Spun. If you know anyone who might be interested in receiving The Obsessive Page Turner, please direct him or her to my website, www.marileebrothers.com so they can sign up and be entered in the contest. I would be eternally grateful!
Meet Durella

In 2007, when my writing career was in its infancy, my website was launched. Along with my books, I wanted to show the rest of the world what central Washington state had to offer. Our burgeoning wine industry was a natural tie-in. I asked long-time friend Durella DeGrasse if she would consider writing articles for the website. She graciously agreed. Her page, "For Wine Lovers" has become a regular feature and a favorite with my visitors.
Now, to tell you a little about Durella. In my opinion, she is the definition of the word resilience. Durella and her husband, John married young and raised three sons together. When she lost John to cancer, Durella began to re-invent her life. She pursued her life-long interest in fine wine and enrolled in Central Washington University's World Wine program. Shortly after, Durella was diagnosed with cancer. It would have been so easy to drop out, put her dreams on hold and wallow in self-pity. But, she prevailed, hitting the books after years away from academic life, juggling her cancer treatments with her commute to CWU.
I'm happy to report that Durella is now a certified wine professional and, more importantly, cancer free. She is employed by Costco, enjoys her family, gardening and her rambunctious, overgrown puppy, Isabella, an Italian Mastiff. I am grateful beyond words for our ongoing friendship and her contribution to my website. (Scroll down for a picture of Isabella)

Here's what I've been reading recently:
Half Broke Horses by Jeannette Walls
The Golden Compass by Phillip Pullman
Wicked Prey by John Sandford
Still Alice by Lisa Genova
After the Darkness by Sidney Sheldon (Tilly Bagshaw)
City of Ember by Jeanne DuPrau
People of Sparks by Jeanne DuPrau
Relentless by Dean Koontz
The Complete Idiot's Guide to Screenwriting by Skip Press
Changeless by Gail Carriger
Because I am an Obsessive Page Turner and addicted to books, please let me know what you are reading by using the contact form on my website. I'll be sure to mention your name and recommendation in my next newsletter. Thanks!
News from the Muse
Because of my picture in the last newsletter, it appears some of you believe I'm lazy. Oh, puhleeze! I have an extremely busy schedule. I have to keep an eye on both the Mr. and Mrs. This is harder than you might think when they won't stay in the same room. So aggravating! And then there's my social life. Friends to entertain. That sort of thing. Yes, my life's a mad social whirl. I thought you might enjoy pictures of some of my canine buddies.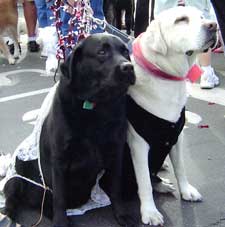 Here's Zeke and me at our so-called wedding. Fun, but hardly necessary since we're both neutered. Yes, we really did have a wedding. (Silly humans!)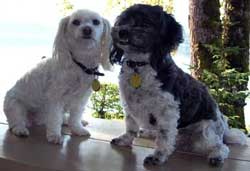 Brindle and Polly are long-time friends. They're Canadian and say "eh?" a lot, but other than that, we get along fine. They're teensy, so I try not to step on them. Three years ago, I swam in their lake in northern B.C. (almost to Alaska).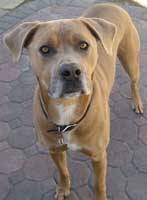 Isabella, an Italian Mastiff, owns Durella, the wine columnist for Marilee's website. She came to visit one afternoon and ran around my back yard like berserk deer. Crazy kid!
This writing biz is exhausting. Time for a power nap.
Until next time... happy reading,

Mauli