You might be wondering why you're receiving this newsletter. Here's the scoop... At some point in your life, you did one of the following: Visited my website and entered a contest. Dropped in at a book signing. Left a comment via email on my website or... you are one of my friends to whom I make the following promise: If you read this newsletter, I will read every word of your Christmas letter, and enjoy it!
Thanks!
Marilee
Moon Spun due out this summer
In July, 2010, Moon Spun, the third book in my young adult urban fantasy series will be published. In Moon Spun, Allie ventures into a new and dangerous world in order to save the life of a family member. I plan to write at least two more books in the series. I've grown to love Allie Emerson as a protagonist and promise to have a bang-up finish to her story. According to the feedback I'm getting from readers, they love her too. For all you Junior Martinez fans who were ticked off because he was missing in Moon Rise, hang in there. In book three, Moon Spun, he's baaaack. And, in book four, he will play a major role. By the way, Moonstone is now an audio book available on Amazon.
The Rock and Roll Queen of Bedlam earns honors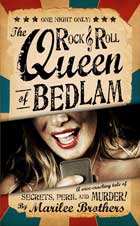 In October, 2009, Medallion Press published my adult mystery, The Rock and Roll Queen of Bedlam -- the story of a young teacher, Allegra Thome, whose student goes missing. I loved writing the book because it allowed me to dip into my experiences as a teacher and counselor. Many of the characters are based on the students and colleagues I was privileged to know during that time. Some of you have asked if I have another book planned featuring Allegra. Actually, I have a story sketched out in my head. Now, I have to find time to write it. I'm happy to say The Rock and Roll Queen of Bedlam is getting great reviews and is a finalist in three contests for published writers.
Castle Ladyslipper available in August
For those of you with an e-reader, my very first book, Castle Ladyslipper, a medieval romance with paranormal elements, has been re-sold to Awe-Struck Press and will be released as an e-book in August, 2010. As with all my books, it is liberally laced with humor.
A new series is forming
I've just started an exciting new urban fantasy series with a male main character. Here's a teaser: It's Friday night and seventeen-year-old Gabe Delgado is getting ready to go out on a date. The doorbell rings. When he opens the door, he sees a car speeding away. He hears a sound and discovers a baby has been left on his front porch along with diapers, formula and a cryptic note. Since the baby has the same birthmark as all the Delgados, it is unquestionably Gabe's baby. As the story unfolds, Gabe discovers the child has some very unique qualities. Consequently, an unscrupulous group of people are willing to do anything to get their hands on her. Gabe must not only cope with being a teenage father, but also solve the puzzle surrounding the baby's birth while staying one step ahead of those who would use her for their own evil purposes.
See your name in print!
I'll be running a new contest soon. Because I like to use the names of real people in my books, the contest will be: Tell me why your name should be in my new book! Check my website for updates...

Here's what I've been reading recently:
Gone Tomorrow by Lee Child
Long Lost by Harlan Coben
Night Kills by John Lutz
Real Vampires, Night Stalkers and Creatures from the Dark Side by Brad Steiger
Dead and Gone by Charlaine Harris
Days of Gold by Jude Devereaux
---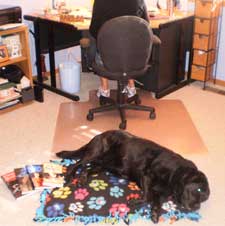 News from the Muse
Mauli, Marilee's muse, has been sleeping right next to her for all five books. Here's a note from Mauli...
Do you see that woman with the skinny, fur-free legs in the background? Now, take a look at the gorgeous black-pelted creature in the foreground lying next to four books? Who do you think is responsible for those books? Marilee? Don't be silly! It's moi, Mauli, the muse. You see, my job is to keep her buns in the chair until she's written her daily quota. I've been in the same spot for nine years and frankly, I'm getting a little tired of it. But, if I don't show up, I know she'll think of some lame excuse and away she'll go. So, I'm here for the duration. At least until it's time for dinner.
---
For the latest updates, visit my website... www.marileebrothers.com