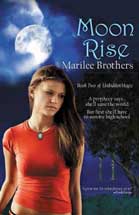 Reader
Reviews
for
Moon Rise
"The events in the climax of the last book have really affected Allie. In addition to being powerless, she is also angry, sad, and guilt-ridden. There is a lot of pressure on her from her newly found dad and the rest of his organization, the Star Seekers, for Allie to fulfill the prophesy and keep the moonstone necklace from getting into the hands of the ancient enemies of Star Seekers, Trimarks. In addition to danger from the Trimarks, Allie now has to worry about a school counselor who is threatening to take her away from her mother. While Allie learns to let go of the past and discovers new secrets about the moonstone, she also gets to know two new kids at school: Beck and Nicole Bradford. They will be integral to her safety and involved in her life more than she could have guessed... and it doesn't hurt that Beck is gorgeous.
"This was another exciting adventure for Allie, and I really enjoyed the new side she shows. Beck and Nicole are interesting new characters that I am excited to learn more about. This book has it all: danger, mystery, unexpected plot twists. The events of the book brought forward many unanswered questions and complications, and really made me look forward to the next book. I can't wait."
"Alfrieda Emerson recently learned that she, and the moonstone necklace her friend Kizzy gave her, are part of a prophecy. Her fellow Star Seekers expect great things from her, but she's lost her telekinetic powers along with the ability to read minds.
"Beck Bradford is the hunky new guy in school, and he may well be the answer to some of her difficulties. Problem is that he and his sister Nicole are keeping a big secret of their own. With the Trimarks out to get Allie for the moonstone, banding together could be their only hope of preserving the Star Seekers' prophecy, and for keeping Allie and the necklace safe.
"Moon Rise is the second installment in the young adult Unbidden Magic series, and follows Allie's continued struggle to find her place in a supernatural world. Ms. Brothers does a wonderful job of expanding the world she's created and adding interesting new characters to the mix. Moon Rise gives a deeper view of both the Star Seekers and the Trimarks, and shares exciting new developments for the heroine. Fans of the first release (Moonstone) will also be happy to see that the author gives them a peek at what Junior has been up to. I'm looking forward to seeing what new adventures await Allie in future releases. This book should appeal to young adult and mature readers alike."
~Kimberly Swan, DarqueReviews.com
"Moon Rise contains a fabulous fast-paced story line, but is owned by the heroine whose perspective on her out-of-control life is simply fun to follow as danger lurks around every corner of the school, home, and town."
~Harriet Klausner, Genre Go Round Reviews
"The second book in the Unbidden Magic Series is absolutely wonderful! Allie's world is extended with the addition of more information about the prophecy and the addition of some unique and versatile characters. The action is page-turning and there are some gasp-out-loud surprises. I'm looking forward to the next in the series to see what happens in Allie's world next! Her supernatural world is expanding and she is learning how to find her place in it. Magically delicious!"
~Wendy, Wendy's Minding Spot
Moon Rise was a great sequel to Moonstone, the first book in the Unbidden Magic series. It was very exciting with twists and turns in the plot on every page... I also liked the new characters that were introduced in this book- Beck, Nicole, Luella, among others. Beck was great and the truth about him and his sister is really neat... Half-demons aren't something you hear about very often, so that added an intriguing touch to the book... I would definitely recommend Moon Rise, but only after you've read the first book, Moonstone. It had suspense, romance, excitement, and much more. A great read that kept me on the edge of my seat."
Kelsey, The Book Scout
"Brothers drops you right into the action. Allie, despite her paranormal powers, is a typical angsty teenager. I liked the mysteries this book revealed. (Who was Allie's maternal grandmother? Did she have powers?) These will keep readers wanting more. I can't wait to read book 3. I want to know what happens with Beck. He definitely has the Edward Appeal. (Question—Are demons more dangerous than vampires?) I was a bit perplexed by Junior's extended trip to Mexico and the introduction of Beck into the story. Allie (unintentionally) seems to be boy-hopping."
~Bridget, What is Bridget Reading?
"A great second installment in this fun paranormal series. Danger, magic, demons, paranormal powers, enemies awaiting revenge, and a dash of romance makes this read hard to put down."
~Jennifer Rummel, YABOOKNERD
"The action [in Moon Rise] is spread out through the story and involved different things. I liked how Beck helps Allie get her powers back. It adds to the tension. It also helps Allie realize that there are people who she can turn to that understand the supernatural part of this world. I also liked how the Tri-marks are still out to get her. I thought how that all played out in the end was intense. It seems to have a lot more magic involved that I originally thought.
"The characters are growing on me (yes even Faye). I'll be reading the next in the series. I want to know what else is in store for Allie!"
~Page, One Book at a Time
Share Your Comments About Moon Rise
Tell your friends and other visitors why they should read Moon Rise. Who's your favorite character? What's your favorite part? Let other readers know why you like the book... but be careful not to give too much away!