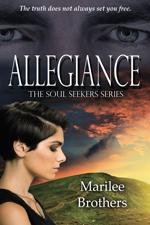 Allegiance
Book 2 in the Soul Seeker Series...
Transplanted California girl, Melanie Sullivan, vows to stay in Oregon until she nails the killer of her best friend, Dani. Mel's ability to search a soul for innocence or guilt is a big plus. Her love for Billy the Kid, former Marine and now a detective with the 3 Peaks police department is also a factor in her decision. She's not quite sure what's going on with Billy. Has the PTSD from his Middle East deployments returned? 
When a hate crime is committed in 3 Peaks, Mel is recruited by sexy Homeland Security agent, Mick, who requires her soul-reading ability. Mick doesn't hide his feelings. He's more than eager to step in if Billy steps out, a complication Mel doesn't need or want. As she goes undercover, Mel embarks on a dangerous journey, aided by her Uncle Paco and devoted friends.
---
An excerpt from Allegiance
As I've done every day for the last few months, I drive slowly past the home of Eddie Morgan, the lying bastard who traded his baby daughter for a shiny new pick-up and, more than likely, murdered his wife, Dani. She was my best friend and the reason I now live in 3 Peaks, Oregon. What do I hope to see? Eddie in handcuffs as a couple of muscular cops perp walk him to their cruiser. Instead, what I see makes me jam on the brakes and lower the driver's side window. 
Scuzbag Eddie is pounding a For Sale by Owner sign into the patchy, neglected lawn of his front yard. I make no attempt to conceal myself. Actually, I want him to know I'm stalking him. A tad over five feet tall, I don't appear intimidating. But Eddie knows --and I know-- looks can be deceiving. I've been labeled a nosy bitch along with other choice words. Sticks and stones. It's the result that counts.
---
Reader Reviews for Allegiance...
Allegiance, by Marilee Brothers, is a thoroughly enjoyable read. Although it is a continuation of the Soul Seekers series, it's easily a stand-alone novel, too. Ms. Brothers has a skill with fast-moving dialogue laced with humor that keeps a person reading long past lights-out time. Mystery, romance and the heroine's ability to see the soul through a person's eyes make this novel a real treat.

Donna L. Scofield
Author of The Family Chuckle and That First Montana Year
Another great installment of the Soul Seekers series. The idea of being able to read souls intrigues me. Plus, I love a sassy, "I'm going to do it my way" kind of gal, but that attitude does get Mel into a little trouble. Okay, maybe a lot of trouble. It makes for a great read. And having not one, but two guys vying for her affection? What more could a girl ask for? Except it's a huge complication for Mel, who'd really like to just solve the mystery at hand and find an apartment. All the characters are interwoven in such a way that they seem to help each other learn and grow. For me, this was a fun read, even though there are serious issues at stake. I'm still on board with this series and will be awaiting the next installment.
Laurie Ryan
Author of Show Me
www.laurieryanauthor.com


Share your comments about Allegiance
Tell us what you liked most in Allegiance, Book 2 of the Soul Seeker Series.